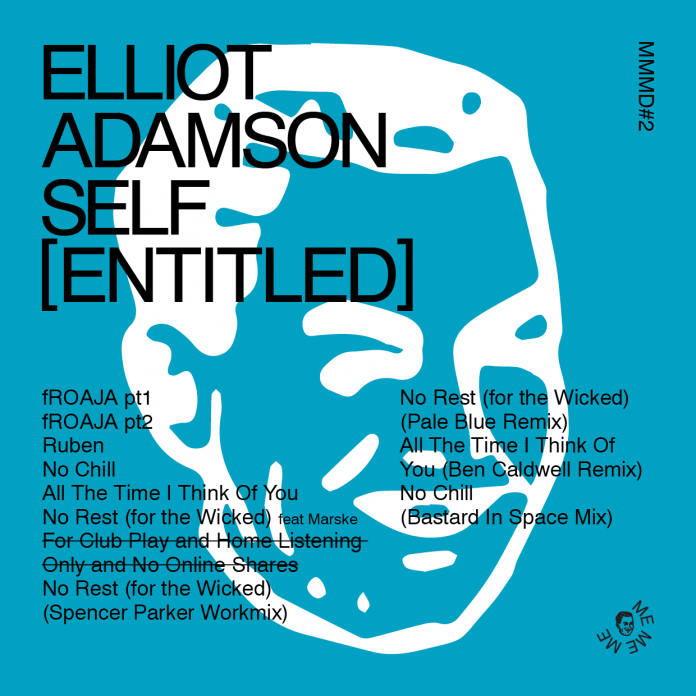 Elliot Adamson has the distinction of being the first artist to return for a second release on Man Power's brilliant Me Me Me label. To mark the occasion the label has really indulged him and serves up an EP with an album worthy 11 stunning tracks including four remixes from Spencer Parker, newcomer Ben Caldwell, label mainstays Pale Blue and Elliot himself.
While possibly most well-known for his more straight-up Techno output, which has seen him garner the support of BBC Radio 1, Denis Sulta, Eats Everything, Jackmaster, DJ Mag, Mixmag, Edible, Unknown To The Unknown et all, this latest EP truly gets across not only Elliot's astonishing versatility and his capacity for a more cerebral and artful approach for the dancefloor, but also his unbelievable rate of production.
The original tracks on offer here range from deep, serene and languid grooves ('fROAJA pt1 and pt2)', to supple minimal techno explorations ('Ruben'), to heart-on-sleeve bumping house ('No Chill' and 'All The Time I Think Of You' ), while there is also thoughtful electronica on 'No Rest (For The Wicked)' featuring the poetic vocals of newcomer Marske. Each track has its own special charm and distinctive sound and shows the genuine and authentic range Adamson really has in his locker.
Work Them boss Spencer Parker and Me Me Me regulars Pale Blue both remix the emotional high point of the EP in 'No Rest (For The Wicked)' into a machine house monster and hypnotic, Fall-esque vocal heavy trip respectively. Newcomer Ben Caldwell also turns 'All The Time I Think Of You' inside out, turning the original's almost Baltimore-esque bumper into a chugging piece of leftfield disco and Elliot makes 'No Chill' even less chill, with a 10 minute jacking reinterpretation under his Bastard in Space alias.
The promo version also exclusively features sample heavy DJ tool 'For Club Play and Home Listening Only and No Online Shares', which is perfectly named (please note that online shares are embargoed, and we respectfully ask that any inclusion in online mixes comes without the track being listed).
This is an astonishing EP packed with a wealth of distinct tracks for DJs and dancers alike and once again confirms Adamson to be the most essential young talent in house music right now.
Release Date:11-06-2018
Tracklist:
1. fROAJA (pt1)
2. fROAJA (pt2)
3. Ruben
4. No Chill
5. All The Time I Think Of You
6. No Rest (For The Wicked) feat Marske
7. For Club Play and Home Listening Only and No Online Shares
8. No Rest (For The Wicked) feat Marske (Spencer Parker's Workmix)
9. No Rest (For The Wicked) feat Marske (Pale Blue Remix)
10. All The Time I Think Of You (Ben Caldwell Remix)
11. No Chill (Bastard In Space Mix)