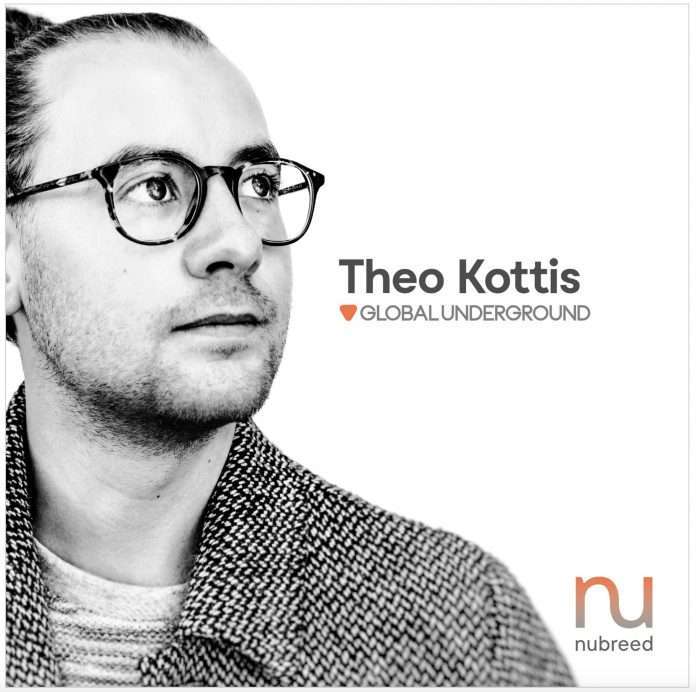 UK's Theo Kottis to helm the new edition of Global Underground's 'Nubreed' album series with 'Nubreed #11: Theo Kottis'.
Released on Friday 29th June as a double CD, and in digital and streaming formats, 'Nubreed #11: Theo Kottis will see one of the UK's hottest new stars become part of a benchmark album series that's counted Steve Lawler, Sander Kleinenberg, Lee Burridge, and Satoshi Tomiie, amongst its ranks. #11 follows instalments from Habischman (#9), and Oliver Schories (#10).
In keeping with GU's reputation for delivering timeless DJ mix albums, 'Nubreed #11: Theo Kottis' explores the deeper, more expansive side of Kottis' sound, and features a 30-strong tracklist including cuts and remixes from Henrik Schwarz, Agoria, Mathew Jonson, KiNK, Kiasmos, Ian Pooley, Mr G, Kornel Kovacs, Space Dimension Controller and The Horn. In a world where everyone and their dog is dropping livestreams, this mix is the antithesis of disposable DJ sets – expertly selected, beautifully mixed, and mastered to perfection, it's an entirely different listening experience.
With his own artist album, 'Beautiful Strangers', due out soon, Kottis is one of the UK's most promising next generation artists and DJs for good reason. Since first gaining recognition as a resident of Edinburgh's Fly Club and Glasgow's Sub Club, he can count the likes of Joris Voorn and Kerri Chandler as fans. And, with tracks signed to a myriad of high-quality imprints such as Get Physical, Moda Black, and Sasha's Last Night on Earth, he's built up an impeccable discography, charting at the top end of Beatport's charts and enjoying regular from the likes of Pete Tong, B-Traits, Monki, and Danny Howard on Radio 1.
Theo Kottis said:
"All the tracks chosen have played a part in my journey as a DJ in the last 2 years. With each track I can recall a specific memory where I've played or danced to the track. I could have approached the mix by trying to select the newest music but I felt the best representation of myself is to look back into my music collection."
Nubreed #11: Theo Kottis – Tracklist
CD1
1. Gigi Masin – Maja
2. Supreems – Us Together
3. The Mountain People – La Onda
4. Afriqua – Aleph
5. Henrik Schwarz – Take Words In Return (Jimi Jules Remix)
6. Habischman – Hoodoo (Theo Kottis Remix)
7. Denis Ferrer – The Red Room (Obj Vocal Mix)
8. Agoria – Scala
9. 2000 and One – Spanish Fly
10. Sascha Funke – MZ
11. KiNK – Perth (Chord Mix)
12. DJ Assasin – Face In The Crowd (Intellidread Mix)
13. Mathew Jonson – Thieves In Digital Land
14. Mateo Murphy – Apex
15. Skatebård – Sgnelkab (Mental Overdrive Remix)
16. Theo Kottis – Ciro
17. Nitin – Dubbed Out (Steve Rachmad Remix)
CD2
1. Mr. G – Stolen Moments
2. Jordan GCZ – Crybaby J
3. Kasper Bjørke – Heaven (Prins Thomas Diskomiks)
4. Christopher Ledger – Lost With K
5. Kiasmos – Blurred
6. Ian Pooley – I Got You (Matthias Vogt Remix)
7. Space Dimension Controller – Exostack (Kornel Kovacs Remix)
8. Justus Köhncke – Timecode (Maxi Version)
9. Beacon – Fault Lines (Dauwd Remix)
10. Efdemin – Parallaxis (Traumprinz' Over 2 The End Version)
11. Telefon Tel Aviv – Sound In A Dark Room
12. Theo Kottis – Moonlight
13. The Horn – Villager
Preorder
https://www.facebook.com/GUMusic/
https://www.facebook.com/theokottismusic/