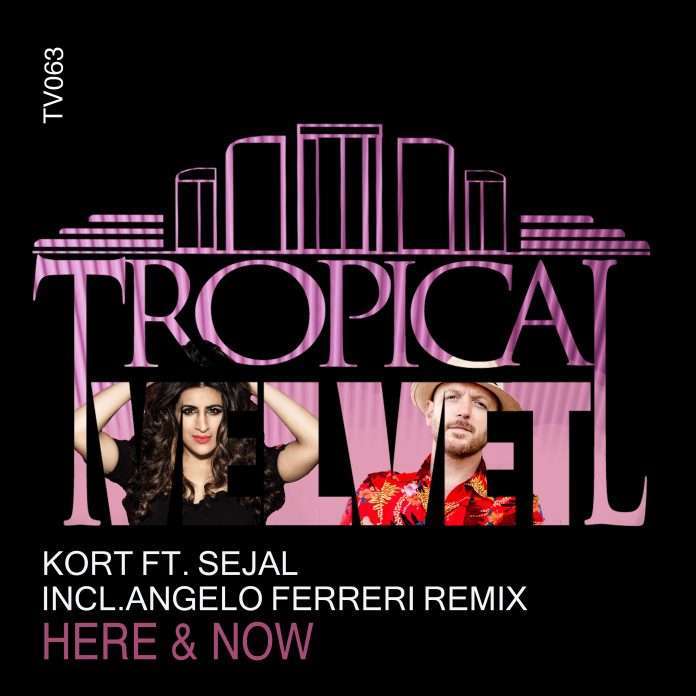 Tropical Velvet label boss KORT kicks off the Summer in true Disco style with a celebration of live music on his shimmering new single 'Here & Now'. Featuring the uplifting soulful voice of Sejal, 'Here & Now' is and epic slice of dance floor gold, authentically recorded with live instruments and teased with explosive brass, funky guitars, warm keys, dynamic piano solo, sweeping strings and a funk riddled bass, all set to potent feel-good groove.. Phew! Also on the package KORT cooks up a kick heavy punchy dub mix to rock the party, and the much in demand Italian Maestro, Angelo Ferreri, amps up the House vibes, injecting a filtered synth-hook, drizzled with segments of the vocal and punctuated with the horn and string stabs.
"I'm really proud of this record as its 90% live and has been a real labour of love to make which I hope you can hear in the result of the song… It's definitely my personal favourite work to date!" – KORT

Track Listing
1 Here & Now (Full Vocal Mix)
2 Here & Now (Angelo Ferreri Remix)
3 Here & Now (Disco Dub)
4 Here & Now (Radio Edit)
UK producer / DJ KORT (aka Ben Webb) is forever in pursuit of creating distinctive, quality house music. His own label Tropical Velvet continues to gather momentum working with stellar artists such as Full Intention, David Penn, Joey Negro,J Paul Getto, Lorenzo Hall, Man Without A Clue, Electronic Youth, Alaia & Gallo, Angelo Ferreri, Tommie Cotton, as well as being a stable for own productions. Since winning the Defected Producers competition in 2011 and signing a publishing deal with Defected, KORT 's gone on to build an impressive production repertoire, including 'Tomorrow' (Copyright), 'No Fear EP' (Copyright), 'Stay' with Reno Ka (Lapsus Music), 'No Lies' and 'For You' ft Jessica Simmonds and 'Holding On' (Tropical Velvet), among many. He caused a storm on YouTube with the remix of Hollaphonic's 'Runaway' ft. Aaron Camper' (Universal Music), with over 100, 000 views. KORT has brought a unique blend of DJing and live performance with PA's to major clubs across Europe and North Africa, in addition hosting label parties, with their first one of the year taking place at Mcqueens and Ministry Of Sound with guests such as Simon Dunmore, Joey Negro & Full Intention.
Here and now will be release in Traxsource Exclusive 6th July / All Stores July 20th 2018 on Tropical Velvet.
Connect Artist,Label,Support
http://tropicalvelvet.com/
https://web.facebook.com/TropicalVelvetRecords
https://web.facebook.com/sejal.keshwala.7