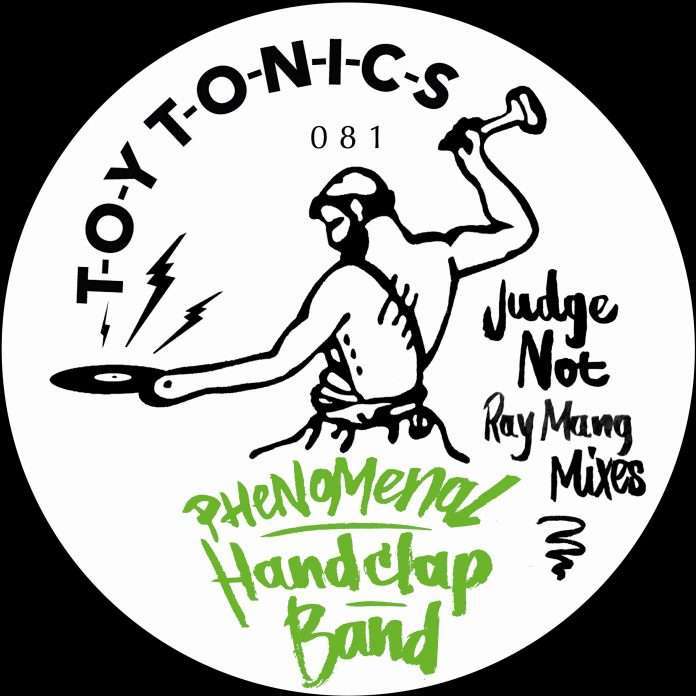 Gospelhouse from heaven! Yes – this is a very special record: NYC's Phenomenal Handclap Band meets London's Ray Mang – the psychedelic soul disciples meet the disco champ by way of remix.
Ray Mang is a hero to fans of underground disco: remixer, collector, producer, DJ – he is part of that magic circle of London DJ connoisseurs that emerged around DJ Harvey. He has the magic disco touch and has applied it to great effect to PHB's "Judge Not". His, is a fresh new take on house-heavy gospel disco that is sure to fill any dancefloor. You only need to try it out.

For those of you who don't know New York's almost legendary band: The Phenomenal Handclap Band is led by producer Daniel Collás and consists of some of New York's finest new soul & disco musicians. Some used to play in the Amy Winehouse band and others can be heard across Mark Ronson's productions. Their biggest moment came a few years ago when they released the single "15 to 20" on Toy Tonics parent label Gomma Records and Paul McCartney wrote the band a letter saying how much he loved the song when he first heard it on BBC Radio 1.
On "Judge Not", PHB drop dazzling piano lines, a deep, rare funk rhythm section and a street corner gospel choir that bring dancers to their feet. Ray Mang heard the original version of the song and was as hyped as we were to get involved with the remix, and the pairing is complementary to say the least.
Many of you know PHB from their collaborations with such luminaries as Peaches or Marcos Valle or Bryan Ferry, a prime appearance at the Glastonbury Festival and direct support on Bryan Ferry's US tour. The group is currently finishing a new album and upcoming remix EPs from Marcel Vogel and Danny Krivit will be released in the run up to the album.
www.facebook.com/phenomenalhandclapband/
www.facebook.com/Ray-Mang-46538919820/
www.facebook.com/ToyTonics