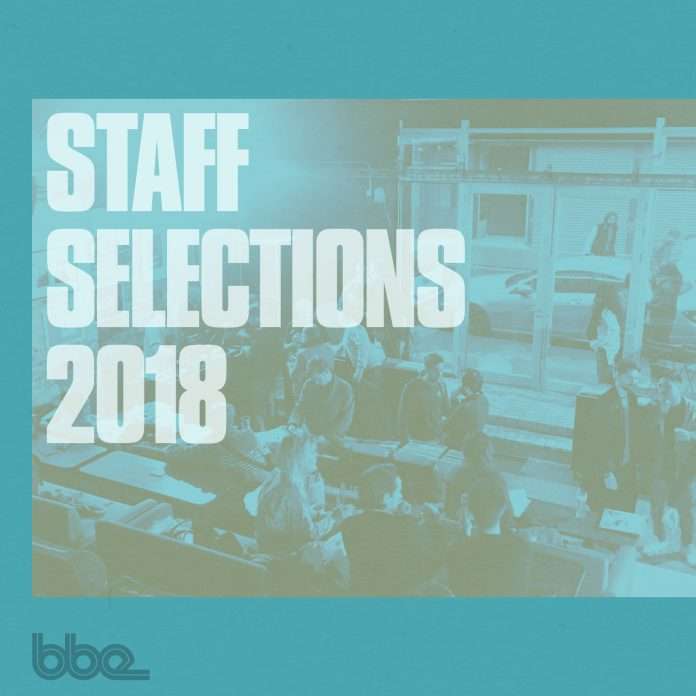 BBE Staff Selections 2018
BBE Music presents a packed new edition of their 'Staff Selections' series, a yearly collection of musical highlights, chosen by the label team themselves.
From BBE:
It's been another fast and, at times, furious twelve months in the BBE office, not least because of one special project: painstakingly restoring a long lost collection of Charles Mingus concert tapes. All that hard work finally bore fruit in early November, with an album that represents a huge milestone on our musical journey. But Mingus is just one chapter in BBE's jazz story this year. 2018 saw two more classic Strata reissues from The Lyman Woodard Organization and The Contemporary Jazz Quintet, plus trailblazing compilation J-Jazz, which led on to an exciting new 'J Jazz Masterclass' album reissue series, shedding new light on forgotten Japanese gems. Our exploration of rare library music also continued with 'Catchy' and 'Duck & Drakes', two unique experimental LPs by 1970s French producer Yan Tregger, both sporting stunning original artwork.
In addition to a wide-ranging selection of reissues and compilations, this year has been a special one for original releases, too. Original artist albums from Beatchild & The Slakadeliqs, The Herbaliser, Gabriele Poso, Vince Watson (under his new 'Quart' alias), Will Brock & Sumsuch and Jerome Sydenham rubbed shoulders with singles, EPs and remixes from Emilie Nana, Ron Trent & Lono Brazil, Ben Rau, Mike City, The James L'Estraunge Orchestra, Tricky D and Kiko Navarro. We hope you enjoy this retrospective selection, taking a moment to look back over the year that was and enjoy the view. It's been a joy to present so many varied and beautiful sounds over the last twelve months, and we'd like to thank you, most sincerely, for listening.
Released: 07th Dec 2018
Tracklisting
1. The Lyman Woodard Organization – Saturday Night Special
2. Ron Trent vs Lono Brazil – Manchild (In The Promised Land) (Ron Trent Full Vocal Version)
3. Charles Mingus – Orange Was The Color of Her Dress Then Blue Silk
4. Beatchild & The Slakadeliqs feat. Justin Nozuka – The Only Difference
5. Ralph Thomas – Big Spliff
6. Yan Tregger – Sunny Wing
7. Takeo Moriyama – East Plants
8. The James L'Estraunge Orchestra – We Rise (6th Borough Project Remix)
9. The Herbaliser feat. Just Jack – Seize The Day
10. Mike City feat. Carl Thomas – 100 Miles (Sumsuch Remix) Listen
11. Gabriele Poso – Everybody Loves The Sunshine
12. Tohru Aizawa Quartet – Dead Letter
13. Quart – Just a Lazy Day
14. Koichi Matsukaze Trio + Toshiyuki Daitoku – Images In Alone
15. Yan Tregger – The Last Girl
16. Emilie Nana, Simbad – The Reign Of Obsolete Technology (Simbad Dub)
17. The Contemporary Jazz Quintet – Noh Word
18. Will Brock & Sumsuch present Mega Jawns -Hushabye
19. Jerome Sydenham – Purple Beech
20. Sacha Vee – Hey Sugar (Bagar aka Tricky D Relick)
21. Roy Ayers – Holiday (Ben Rau Inkal Remix)
22. Kiko Navarro feat. Gabriele Poso & Paco Colombas – Painful Goodbye (Hasta Siempre Reprise)
PreOrder Here