Superfreq welcomes Jaen Paniagua to the roster with his standout label debut, the four track 'Orion EP'.
Jaen has recorded on vital labels like Get Physical, Mexa and Zoo:Technique in the past building a solid following for his take on House music. The Mexican tastemaker builds real tension and suspense in his tracks and has a seductive take on bass that always draws you in and has made him one of his native scene's most vital names.
His superb title track 'Orion' kicks off with solid drums and a tense string that sets an absorbing mood. Things then build with whispered vocals, bass tones and synth splashes until the hook spins you out and makes its mark. Next comes 'Splash,' which starts with vast rubbery kicks, enveloping bass and warm chord stabs that slowly build to an infectious groove. Synth stabs work around the chords and hold you in a beautiful sense of suspense.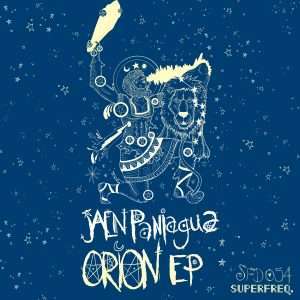 Keeping up the excellence is 'Orbita,' which starts with a shuffling tribal rhythm. Pulsating bass is designed to lock in the whole club as it perfectly interplays with wavy tones before bleeps, a deep melody and an acid underscore are finished with intense vocal samples to complete this delicious slice of tech. Last up is the perfectly named 'Sublime,' with its well-crafted and solid rhythms, rolling bass and delightfully tonal pad work. The track builds with chord stabs and a hook that you'll have trouble shaking from your head and make this a big tune.
This EP ticks all the right boxes with tracks that can be used at various times of the night and once again confirm Paniagua's talents.
Release Date:14-02-2019
Tracklist:
1. Orion
2. Splash
3. Orbita
4. Sublime
https://web.facebook.com/superfreqrecordlabel/