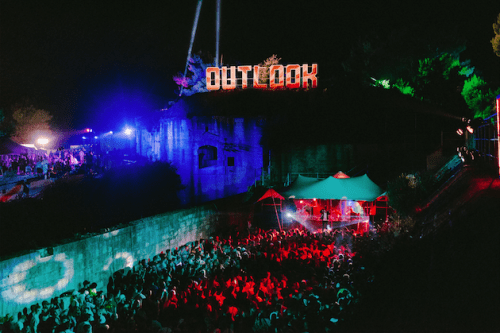 Outlook Festival drops First Names
Fresh from the return of an outstanding eleventh year, Outlook Festival is back with a stand out line-up to celebrate their final year at Fort Punta Christo on Wednesday 4th – Monday 9th September. This year's edition remains as forward thinking as ever in curation, inviting Chase & Status, Bugzy Malone, Goldie (live), Ghetts & many more.
Outlook's annual opening concert will be kicking off the proceedings for this year's festival – set in a stunning amphitheatre in the neighbouring city of Pula. This year's line-up invites Ram records label boss Andy C, South London rapper Loyle Carner, drum and bass master Shy FX performing live with hisRagamuffin Soundsystem, festival stalwarts Gentleman's Dub Club and rising vocal talent Flohio who will join the final show in the stunning 2000-year-old amphitheatre.
Built on the foundations of a deep admiration for sound system culture, Outlook festival champions the scene's hottest talent and newcomers alike – uniting thousands of bass lovers for four days and nights soundtracked by high grade sound systems channelling dubstep, house, bass, garage, grime, hip-hop, DnB and everything in between.
Waving goodbye to Fort Punta Christo, Outlook is making sure its final year at the fort will be one to be remembered. This year sees some of the most exciting talent head to the fort including drum and bass duo Chase & Status making their debut with a RTRN II JUNGLE dj set, Manchester's quick fire rapper Bugzy Malone makes the line up, whilst DnB royalty and MBE holder Goldie will be performing live celebrating 25 years of Metalheadz.

A solid crew of grime & rap talent joins this year's edition, with figureheads Ghetts and D Double Erepresenting East London. North Manchester's hardest barrer Aitch and rising rapper Unknown T will be playing this year's edition, whilst MCs Killa P, Irah and Flirta D are not to be missed. With beginnings in jungle/DnB and now firmly representing the grime scene – President T will be back at Outlook, alongside West London's Big Zuu. On a hip-hop flex, DJ Amy Becker will be bringing her selections to the Adriatic coast, championing the new gen sound, elsewhere Estonian rap prince & rising star Tommy Cash will be sharing to the stage DIY popstar Jimothy Lacoste. Northern heroes Children of Zeus return to Outlook with their genre-spanning jazz infused hip hop whilst, soulful singer Eliza and South London's Flohio and Sam Wise will touch the mic with their raw and poetic bars.
Supporting music from grassroots up, Outlook showcases some of the most notable names the drum and bass scene has to offer and this year is no different, inviting founding father Grooverider. Shy FX, a regular to the festival is also billed to play, alongside intelligent drum and bass stalwart LTJ Bukem. Calibre will be bringing his signature liquid DnB sound. Take a trip down memory lane with Randall who'll be joined by dBridge, championing the low frequency sound and The North Quarter label boss Lenzman.
Repping the roots and dub is reggae's finest Sister Nancy & Legal Shot Sound who will be joined by Iration Steppas, Channel One and Mungo's Hifi. Standout vocalist Eva Lazarus will make her return to Outlook alongside dancehall mainstay Seanie B.

Dubstep pioneer and Deep Medi boss Mala returns alongside Tempa affiliates Youngsta and Hatcha. Elsewhere Rusko, Joker, V.I.V.E.K, Commodo and Truth are joined by dubstep duo Sicaria Sound.
Expect sonic explorations from Holy Goof, who will be taking things darker and deeper, meanwhile innovative producer Alix Perez heads back to the festival – not to mention Ninja Tune veteran The Bug. Sound system dons O.B.F will be bringing along The 1 Crew whilst staple figure to the scene Zed Bias will provide non stop bass heavy anthems. Veteran Paradox will perform live, as well as Sam Binga- an unstoppable force in the bass music scene. On MC duties expect none other than Sgt. Pokes and SP:MC, Blackeye, Tempza & Pean.
Making their return to Outlook, Kurupt FM's very own Decoy & Seapa (MC Grindah) join a number of artists making a nod back to the old school days of pirate radio with plenty of selections coming from Matt Jam Lamont, Hollie Cook and Outlook mainstays 24 Hr Garage Girls. Known just as much for shelling out house & bassline as much as 2-step & jungle Jossy Mitsu – Astral Black affiliate rounds of the bill.
The closest town, Pula, is easily accessible by taxi to the festival site and has a wealth of accommodation. Outlook also offer camping on site, with the option to stay in boutique camping options. Head to the Outlook Festival website see what is available. Flight options from the UK are to Trieste, Ljubljana, Zagreb, Venice Treviso or Venice Marco-Polo airports, and then a transfer to the festival site. Outlook Festival also organise coach packages and flight packages, all available to view / purchase at – http://bit.ly/Out19_tkts. With tickets selling fast, customers are advised to act fast on tickets for what will be the final year at Outlook's stunning Fort Punta Christo location. To lock in a place at Outlook Festival from just £100, head to : http://bit.ly/Out19_tkts
OUTLOOK FESTIVAL OPENING CONCERT
ANDY C – LOYLE CARNER – SHY FX (LIVE) – GENTLEMANS DUB CLUB – FLOHIO – MORE TBA
OUTLOOK FESTIVAL 2019
CHASE & STATUS – BUGZY MALONE – GOLDIE (LIVE) – GHETTS – MALA – HOLY GOOF – CALIBRE – SISTER NANCY & LEGAL SHOT SOUND – AITCH – ALIX PEREZ – BCEE – CHANNEL ONE – CHILDREN OF ZEUS – COMMODO – DBRIDGE – DECOY & SEAPA (MC GRINDAH) – DEVILMAN – DJ RAP – GROOVERIDER – HATCHA – HOLLIE COOK – HYBRID MINDS – IRATION STEPPAS – JIMOTHY LACOSTE – JOKER – LENZMAN – LTJ BUKEM – MATT JAM LAMONT – MUNGO'S HIFI – OBF & THE A1 CREW – PARADOX (LIVE) – PRESIDENT T – RANDALL – RUSKO – SEANI B – SHY FX – SIR SPYRO – SKEPTICAL – SLIMZEE – TOMMY CASH – UNKNOWN T – YOUNGSTA – ZED BIAS
207 – 24HR GARAGE GIRLS – AMY BECKER – ANDY H – ANT TC1 – ASHANTI SELAH – BETHBETHBETH – BILLAIN – BLACK BARRELL – BLAZIN – BREAKFAKE – BRUZA – CHARLOTTE HAINING – CHEF – CIMM – COCO BRYCE – COLTCUTS – CRAZY D – CVSS – DAYZERO – DIGITAL – DIGITRON – DISTINCT MOTIVE – DJ JAMPAK – DJ RAGGO – DJINN – DOUBLE 0 – DR. OBI & ANJA G – DUBDIGGERZ – EGOLESS – ELISA DO BRASIL – EVA LAZARUS – FD – FILIP MOTOVUNSKI – FINWA – FLIRTA D – FORCA – GARDNA – GREY CODE – HEADHUNTER – INDIKA – IRAH – J.SPARROW – JOE KNIGHT – JOSSY MITSU – KALI FAT DUB – KHIVA – KILLA P – KOJAQUE – LOST – LX ONE – MANTRA – MC AD – MC BLACKEYE – MC SGT POKES – MC TEMPZA – MIKEY B – MONTY – NONAMEDESCIPLE – OB-SERVER – PANKA – PART2STYLE – PHILITH – QUEST – REDEYES – ROOTS IN SESSION – SAM BINGA – SEPIA – SHADOW PEOPLE – SHARKY MAJOR – SICARIA SOUND – SINAI SOUND SYSTEM – SP:MC – SUN OF SELAH – TINO – TRENDS & BOYLAN – TRUTH – V.I.V.E.K – VAPOUR – VITAL TECHNIQUES & MC PEAN – YT
OUTLOOK FESTIVAL OPENING CONCERT :
Pula Arena, Croatia | 4th September 2019
Opening Concert: outlookfestival.com/amphitheatre
Festival Tickets: http://bit.ly/Out19_tkts