With the release of their highly anticipated new album 'WHO ELSE' just over a week away (22nd Feburary), German electronic pioneers Modeselektor have unveiled another taste of the project in the form of 'Who' – a collaboration with hotly tipped Estonian rap sensation Tommy Cash.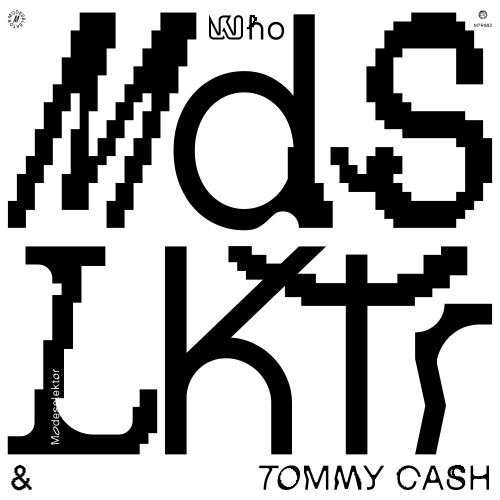 Possibly the most pop focused moment on 'WHO ELSE', the track finds Tommy Cash at his most melodic, offsetting the song's destructive kick drums and full bodied bass with hypnotic chants and empowering lyricism. 'Who' underscores Modeselektor's reputation as pioneers of boundary-pushing popular electronic music, keeping it real while keeping it fresh, appealing and inclusive. A frantic and melodic tune, 'Who' shows a love for the spectacular, while not shying away from a more pop-leaning sound. B-side 'Who Else' is the perfect atmospheric flip side, picking up similar sounds but going for subtle sonic experimentation over an emotionally charged broken beat. It's Modeselektor's universe in a nutshell. Always familiar, never the same.

Eight years since their last album, Modeselektor will release their fourth album 'WHO ELSE' on February 22nd. An album that challenges the conventions of electronic music, while instilling fun in a completely unique way, 'WHO ELSE' is essential Modeselektor – a complete exploration of their sound formed by experience, self-confidence, and a hint of madness.
To celebrate the release of 'WHO ELSE', Modeselektor have announced their return to the live stage. Beginning in February, the duo will set out on tour across Europe and North America, bringing their critically acclaimed live show to audiences, once again proving why they're lauded as one of electronic music's most essential entities.
Tickets are available here, and a full list of dates are available below.
Modeselektor Live Tour 2019
Feb 19 – Kalif Storch – Efurt, Germany
Feb 20 – Le Botanique – Brussels, Belgium
Feb 21 – Kaserne Basel – Basel, Switzerland
Feb 22 – Élysée Montmartre – Paris, France
Feb 23 – Oval Space – London, UK
Feb 27 – Roxy Prague – Prague, Czech Republic
Feb 28 – ARENA WIEN – Vienna, Austria
Mar 1 – Magazzini Generali – Milan, Italy
Mar 2 – Alte Kongresshalle – Munich, Germany
Mar 6 – Paradiso Amsterdam – Amsterdam, Netherlands
Mar 7 – Berlin, Germany
Apr 2 – Théâtre Fairmount – Montreal, QC, Canada
Apr 3 – Elsewhere – New York, United States
Apr 4 – Echoplex – Los Angeles, United States