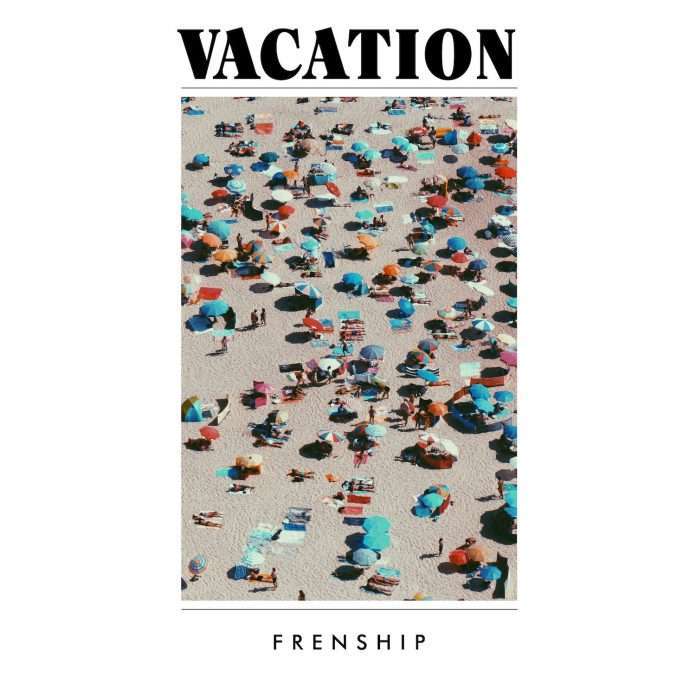 Platinum-selling duo FRENSHIP – James Sunderland and Brett Hite – have announced the release of their debut full-length album Vacation, out May 17th via Counter Records, part of the Ninja Tune family. Rousing first track "Wanted A Name" feat. Yoke Lore and brand new single "Remind You," out now, are available for instant download with any album pre-order.

Vacation, sees FRENSHIP connect with Bastille on storming track "Won't Let You Go" a collaboration birthed after FRENSHIP toured the US with Bastille. Dan Smith, off the back of a global hit alongside Marshmello, lends his recognizable tones to the floaty production of FRENSHIP to create a memorable addition to a stellar album. Vacation follows a series of buzzed-about singles that racked up more than 750+ million streams, including the 2016 global hit "Capsize" with Emily Warren. Full of warm harmonies, propulsive melodies, spiraling synths and pristine songwriting, Vacation is an album about searching. It examines the nuances of relationships and the idea of happiness and home – the duo's hot-cold relationship with Los Angeles serving as one of the inspirations for the new songs.

New single "Remind You" addresses the insecurities which can often affect someone on one side of a relationship over layers of electro-pop synths, a laid-back groove and a bouncy melody. "Wanted A Name" feat. Yoke Lore explores the drive to re-capture those lightning-in-a-bottle moments of love, validation and pure creativity. The song received early love from Billboard, Clash Magazine, was featured in Spotify New Music Friday in 23 countries and Apple Music's Best of the Week in 36 countries. The video (Watch HERE ) features acclaimed actress Millicent Simmonds (A Quiet Place, Wonderstruck), who is Deaf, delivering a powerful performance of the song in American Sign Language, a way for FRENSHIP to reach out to their Deaf fans who they learned were requesting interpreters at their shows. Millicent's presence is spellbinding against the serene, expansive natural setting, as she sheds light on how Deaf people experience and express themselves through music. It's a profound reminder that music really is the universal language. Album intro "Breathe Deeper, See Brighter, Feel Better, Hear Now," which bubbles and crescendos into a wall of gorgeous vocal harmonies, sets the album's tone of humility and perspective– a secular way of searching for something spiritual in everyday life, knowing that life is far bigger than anyone or anything in it. As the album winds down, "Anywhere But Here" looks ahead and away from Los Angeles. The track's adventurous, restless spirit and cinematic soundscape conjure up the open road ahead where the search for a place that truly feels like home can continue.
iframe sandbox="allow-same-origin allow-scripts allow-popups allow-presentation" src="https://found.ee/GH5Z" id="iframe-GH5Z" allowfullscreen frameborder="0″ style="width:100%; height:80px;" data-original-width="300px" scrolling="no">
FRENSHIP, whose brilliant production chops and diverse inspirations colour their wide-angle indie-pop songs, garnered multiple gold and platinum certifications around the world for "Capsize," and were picked as Spotify's #2 Breakout Artist in 2016 and one of Shazam's 2017 Emerging Artists. Now, the duo returns poised to take their music to a whole new level.
"Vacation" Tracklist:
1. Breathe Deeper, See Brighter, Feel Better, Hear Now
2. Remind You
3. Wide Open
4. Keep You Close
5. 39.5795° N, 105.1237° W
6. Get Out My Way
7. Run II U
8. Won't Let You Go feat. Bastille
9. Wanted a Name feat. Yoke Lore
10. Swim
11. 47.6588° N, 117.4260° W
12. Anywhere But Here
13. Vacation

FRENSHIP Tour Dates:
May 18 San Francisco, CA @ Mezzanine
May 20 Portland, OR @ Wonder Ballroom
May 21 Seattle, WA @ The Crocodile
May 23 Denver, CO @ Summit Music Hall
May 28 Minneapolis, MN @ Fine Line Music Cafe
May 29 Chicago, IL @ Thalia Hall
May 31 Toronto, ON @ The Velvet Underground
June 1 Albany, NY @ Lucky Strike Social
June 2 Boston, MA @ Paradise Rock Club
June 3 Philadelphia, PA @ Union Transfer
June 5 New York, NY @ Irving Plaza
June 6 Washington, DC @ 9:30 Club
June 7 Carrboro, NC @ Cats Cradle
June 8 Atlanta, GA @ Terminal West
June 10 New Orleans, LA @ Hi Ho Lounge
June 11 Dallas, TX @ Club Dada
June 14 Los Angeles, CA @ The Fonda Theatre
June 15 San Diego, CA @ Music Box
https://web.facebook.com/wearefrenship