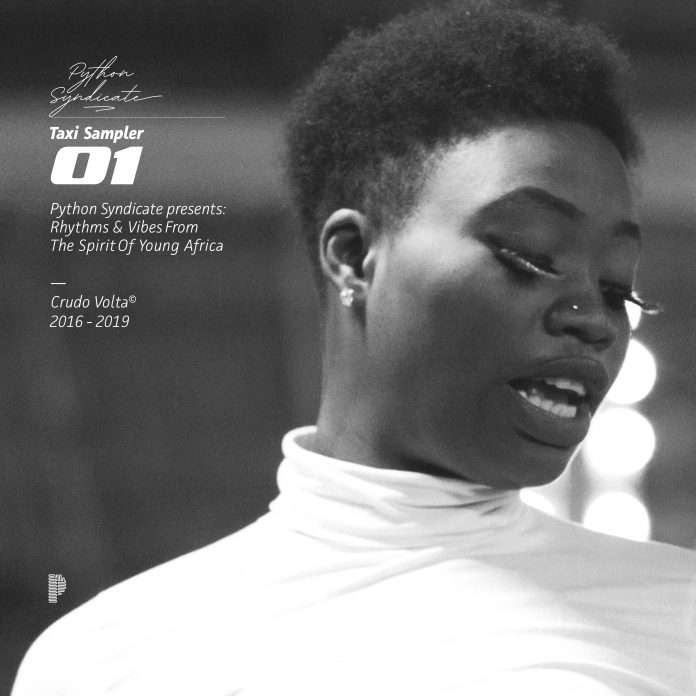 Visual collective Crudo Volta, which documents contemporary African urban music, has produced a new chapter titled Taxi Waves. The miniseries produced by Italian streaming platform TimVision aims to document contemporary youth and music cultures across three different African cities: Lagos, Maputo and Addis Abeba. This follows the first two documentaries 'Woza Taxi' focussed on Gqom in Durban, and 'Yenkyi Taxi' focussed on Afrobass in Accra.
In support of Taxi Waves, Crudo Volta has decided to release a 2LP Box through the newborn independent label Python Syndicate, launched by Crudo Volta's founder and Art Director Mike Calandra Achode & Gqom Oh! DJ and label owner Nan Kolè which aims to nurture and showcase African contemporary underground scenes.
The 2LP Box will display a great array of music genres such as, Afrobeats, Afro Hip Hop, Afrobass, Gqom, Ethiopian Electronic Music & Kuduro that are defining the sonic and cultural landscape of contemporary African young generations. The release is a showcase of unreleased and featured tracks from producers who have contributed to all Taxi documentaries during these last 3 years.
The 2LP box will include award-winning African hitmakers such as Nigerian producer Young John or Mozambique's maverick Ellputo but also forward thinking productions from the likes of Ethiopian Records, already released on Warp /Arcola, or TLC FAM and Citizen Boy already part of the Gqom Oh! roster.
The 2LP box will also feature a 26-page curated booklet to support the socio-cultural context of the music.
Python Syndicate Taxi Sampler 01, out 27th June 201
Tracklist:
A01. Intro ft Kofo & Omowunmi – What's Happinness? / Young John – Idunu (Unreleased)
A02. Hagan ft Gafacci – Yenkor
A03. Gafacci – Skit
B01. Ethiopian Records – Tigist (Unreleased)
B02. Rvdical The Kid – Yama Kegule (Unreleased)
B03. Rvdical The Kid – Skit
B04. Sess The Problem – Taxi Vibe (Unreleased)
C01. Hagan – Yenkyi
C02. Forgotten Souls – Blow My Mind
C03. Webster – Skit
C04. Rvdical The Kid – Free Spirit
D01. Ellputo – KF (Unreleased)
D02. TLC FAM – Smelane Boyz
D03. Citizen Boy ft Dapo Tuburna – Alala
D04. Ethiopian Records – Skit
Taxi Waves Premiere Film Screening
Mon, 1 July 2019
The Curtain, London UK
An evening of screenings, discussions and live music.
Event schedule info & tickets:HERE
https://www.facebook.com/crudovoltaradio