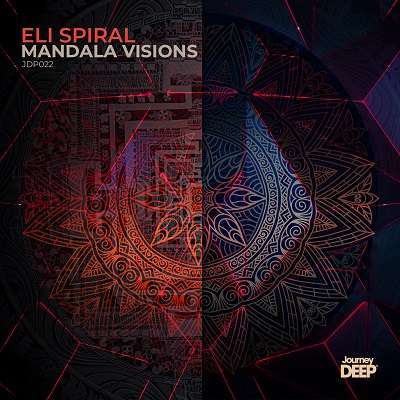 JourneyDeep Records continue to solidify their reputation as a platform for tasteful, time-tested talent with the July 15th, 2019 release of "Mandala Visions" by Eli Spiral. Borne from a moment of genuine inspiration, the progressive house single blends classic and cutting-edge elements to yield a sonic tale only such a tenured producer is qualified to tell.
"Mandala Visions" was inspired by a sincere, unadulterated dance floor experience Eli Spiral had while attending Whirling Dervish's Sasha Warehouse Experience that took place in Denver in April. Unsurprisingly, music is the only medium through which he could communicate what he felt – and he did so effectively to say the least.

Eli Spiral's history with dance music's more psychedelic side gives "Mandala Visions" just the right edge over the heap of progressive house releases coming out each day. The song's instrumental and spoken word samples are supplemented with analog synths and bass lines; Eli's Roland JP 8000 in particular gives it distinct classic appeal. By and large, "Mandala Visions" exhibits just as much dance floor appeal as it does merit as a singular creative expression.
On the topic of "Mandala Visions", Eli Spiral says:
"This track was inspired by the recent Whirling Dervish Sasha Warehouse Experience. It was one of those parties where you could feel the vibe as soon as you walked into the room. I had a deep, meaningful dance floor experience that night; basically I had a psychedelic experience without taking any psychedelics. I went really deep into the sound and had some clear visions of mandala patterns, which I wanted to translate into a song. I thought it made a lot of sense for JourneyDeep and really fit their sound."
Connect Artist, Label, Support
https://www.facebook.com/EliSpiral/
https://www.facebook.com/journeydeeprecords/
https://www.beatport.com/release/mandala-visions/2631374