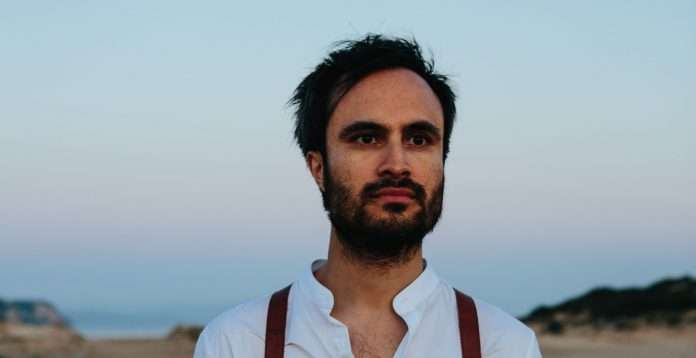 Brudini Pale Gold
Imagine Frank Sinatra´s obscure leftfield cousin darkly crooning over a soundtrack equal parts Spaghetti Western, Balkan and Sicilian mafia funeral and you have a rough idea of what Brudini´s new single, Pale Gold, sounds like.
"The song taps into different emotions. It´s a tale of someone far away from home, slowly realising how the newfound reality diverges from his ideals. Mournful, as the view on the world around him changes, yet liberating in that moment he finally decides to abandon his old battles and seek out a new course."
A demo of the song was written 5 years ago, and in a world that seems to be turning darker, the narrative turned out to be strangely prophetic for the artist, who was once an owner of Soho´s tiny literary-bohemian bastion The Society Club.
"The release coincides with the UK leaving the EU, and me ultimately abandoning London, the liberal, multi-cultural bastion which has been my home for the last 13 years. And the song echoes my sadness over both these events, yet maintains a sense of hope for a new future and shift in my priorities as I return to my homeland, Norway, to be closer to my three year old daughter."
Pale Gold is the 3rd single from forthcoming debut album From Darkness, Light which is due for release in November. It follows the critically acclaimed singles Reflections and Emotional Outlaw.
Listen Brudini Pale Gold

«The album is a journey, emotionally and spiritually. In parallel with the five years of its creation, so many things happened in my own life. I became a father, the Society Club prospered and went bankrupt, a long term relationship ended, I decided to leave behind my career as a city trader. For a musician, I guess my story is unusual. But it also shaped my artistic voice.»
Five years in the making, From Darkness, Light is a concept album weaving an abstract, emotional journey. Starting with a sense of longing, followed by unease and despair, soul searching, feelings of rage and lust, collapsing in a moment of naked grief, finally arriving at a form of cosmic consolation towards the end. A mix of song, soundscapes and poetry, the album spans eight songs and one interlude, in addition to five poems by Californian beatnik Chip Martin.
Self-produced, the album was mostly recorded in Brudini´s bedroom in Dalston, a cramped space with guitars, analogue synths, vintage condenser microphones and a creaky old piano. Drums and double bass were recorded in a tiny basement studio in Stoke Newington Road. Mixing was done in New York by Grammy-winner Jeremy Loucas and Brudini at analogue boutique studio Sear Sound, whose legacy artists include Velvet Underground and John Lennon.
TRACK LISTING
1. Roselight (w Chip Martin)
2. Nightcrawler
3. Reflections
4. Lost in the Desert, I Dreamt of the Sea (w Chip Martin)
5. Pale Gold
6. Female Rimbaud (w Chip Martin)
7. Emotional Outlaw
8. Interlude Contrebasse
9. Lament´s Waltz
10. God Unknown (w Chip Martin)
11. Radiant Man
12. Ariel (w Chip Martin)
13. Everything is Movement
14. Boulevards (Epilogue)
https://www.facebook.com/brudinimusic