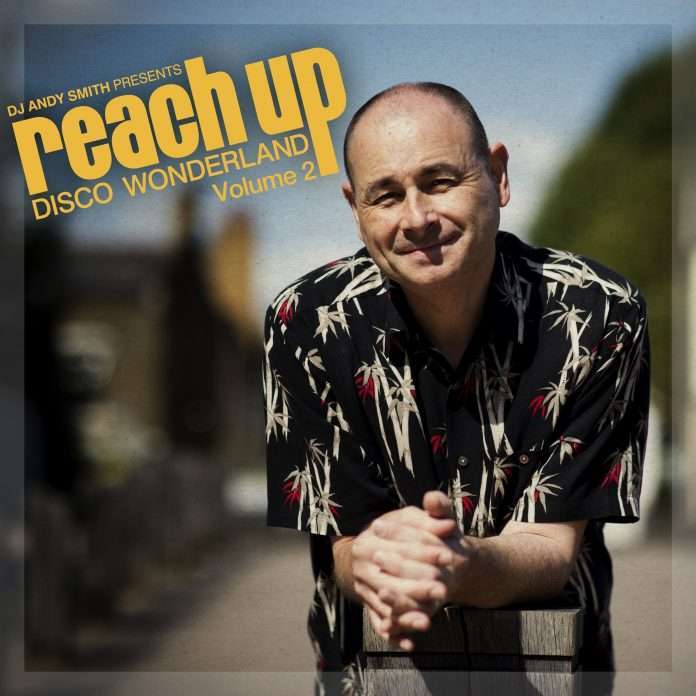 DJ Andy Smith returns to BBE Music with a second stunning installment of his compilation series 'Reach Up – Disco Wonderland', released on triple vinyl, double CD and digital formats.
"Volume 2 takes the baton from Volume 1 and runs with it" says Andy. "It brings new Disco heat, with unreleased tracks & remixes by myself, Full Intention & Nick Reach Up, Crissy Kybosh and Bad Bikini & Disco Circus. These fresh takes rub nicely alongside tried and tested original tracks from the golden age of Disco for all to enjoy."
In the two years since the first volume of 'Reach Up – Disco Wonderland' was issued, Andy's 'Reach Up' DJ collective have been busy with performances at festivals such as Bestival, Festival No.6 and Eastern Electrics, as well as a host of club gigs from London to Lisbon and many spots in between. Their monthly South London Soul Train residency in Peckham, London is now in its third year, while their monthly Soho Radio show has been streamed and downloaded by thousands of Disco lovers Worldwide.
Just like Volume 1 before it, Reach Up – Disco Wonderland Volume 2 takes in forgotten boogie, funk, dance-floor soul and early house gems from the 70s and 80s, as well as a few contemporary productions created with a nod to the classics. Ranging from obscure West Indian pop artists to Chicago Disco royalty, 'Reach Up – Disco Wonderland Volume 2' searches high and low to find the heaviest grooves and purest deep-down good vibes. An exclusive DJ mix is included on the CD version for maximum 'Reach Up' pleasure.

Release Date:January 24th 2020
Vinyl track listing:
A1 – Will Sessions & Amp Fiddler feat. Dames Brown – Lost Without You (DJ Andy Smith Re-Edit) (5:46)
A2 – The New Jersey Connection – Love Don't Come Easy ( 06:39)
A3 – Ted Taylor – Ghetto Disco (7:00)
B1 – Full Intention & Nick Reach Up feat. Jazz Morley – Night Of My Life (5:12)
B2 – Cela – I'm In Love (7:18)
B3 – Chain Reaction – Dance Freak (6:44)
C1 – Disco Circus – Get Up and Dance (Bad Bikini Re-Edit) (7:00)
C2 – Gregg Diamond – Star Cruiser (6:04)
D1 – The Gibson Brothers – Heaven (7:25)
D2 – The Emotions – You're The Best (6:19)
E1 – Greg Henderson – Dreamin (7:24)
E2 – Claudja Barry – Sweet Dynamite (4:12)
F1 – Serious Intention – You Dont Know (Crissy Kybosh Remix) – (7:00)
F2 – The Armada Orchestra – For The Love of Money (6:22)
F3 – Ronnie Jones – You And I (5:56)
Preorder NOW here
https://www.facebook.com/djandysmithofficial/