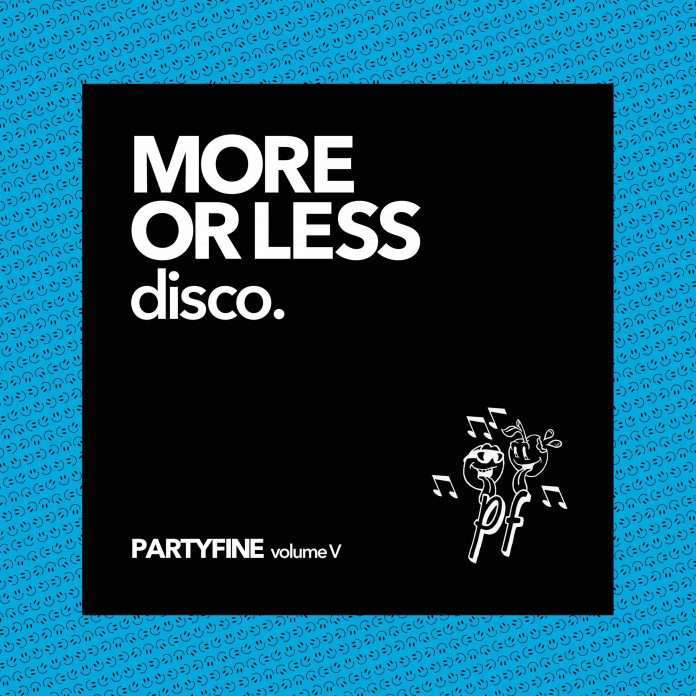 Yuksek's Partyfine imprint kicks off 2020 with a compilation exploring sounds in and around the disco and post-disco realms entitled 'MORE OR LESS disco'
This 5th chapter of exclusive compilations contains unreleased tracks from new members of the family, Dimitri From Paris offers up a rare original in collaboration with Aeroplane, Jean Tonique is back on the roaster, together with Getaroom who joins force with Chloe from C.A.R,. PoloCorp (half of Polo&Pan), Villa, Moonlight matters, Anoraak, Azur, Birdee & French toast are all on the bill and Dombrance (part of DBFC with David Shaw) presents an Italo/electro track which is part of his surreal political new project.
The opener 'Puzzle of a Downfall Machine' features chugged-out rhythms, revolving synths and obscure space-tinged modulations which is a constant feature throughout the compilation. Dimitri From Paris & Aeroplane takes the compilation into a soulful direction through a vibrant, sunny disco track with funky elements and Leela's colourful vocals while CLAAP! & Santana's remix of Yuksek's 'Rollercoaster' delivers a laid-back Balearic and lounging atmospheres.
Jean Tonique makes way for 'Dance' giving off effervescent grooves, and sensual synths fluttering about the bouncy rhythms whilst 'U Are The Soleil' by PoloCorp rounds off the emphatic 13 tracks with alleviating tones, cosmic waves and smooth-riding soundscapes that brings endless euphoria.
More or less disco, disco or not disco, it's always been difficult to see the boundaries of this movement and all the influences it's infused on the electronic scene. Through acid soaked sonics and sparkling exuberance, 'MORE OR LESS disco' offers a smooth blend of Partyfine's aesthetic and euphoria.
'MORE OR LESS disco' drops on Partyfine on 10th January 2020.
Tracklist
1. Azur – Puzzle of a Downfall Machine
2. Getaroom! Feat. C.A.R. – The Other Day
3. Villa – Sween
4. Rubin Steiner – More Bongos (Yuksek Edit)
5. Birdee & French Toast – It's Important
6. Dimitri From Paris & Aeroplane feat. Leela – Can't Get Enough
7. Anoraak – Body Language
8. Yuksek – The Rollercoaster – (Claap & Santana Remix)
9. Dombrance – Obama
10. Alex Rossi – Tutto va bene quando facciamo l'amore (Yuksek Remix)
11. Jean Tonique – Dance
12. Moonlight Matters – I Never Knew
13. Polocorp feat. Adore – U are the Soleil
https://www.facebook.com/Partyfinemusic/