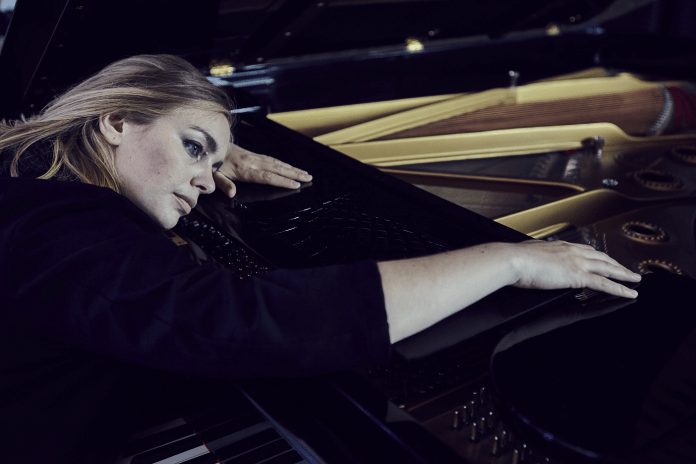 Emika is back! last Friday the critically-acclaimed artist returned with a new track " "Dilo 33" " – her first new material for 2020 the release follows on from the hugely popular Klavirni (2015)
Following on from Emika's first solo piano Klavirni in 2015, Klavirni Temna is her second installment of piano solos are a magical cluster of melodies, dreamy effects, obscure production mistakes with tape echo's and other old analog gear.
The pieces were recorded during the time she was pregnant with her first child Silvy, to whom she has dedicated this record 'To Silvy who heard it first from the inside'. The collection of 'Dilo's' which means moment in Czech, were recorded 'in a state of ultra hyped up creativity combined with a massive fear about losing my identity or creativity as an artist once I would become a mother' – says Emika about the album process. She goes onto say 'I had this record on the shelf for a long time ready while I was nursing Silvy and one day I decided I better get back to finishing the production and listen to the vinyl test presses. At that moment Silvy came in from her nap and touched my tummy and said 'mummy', which freaked me out, as she seemed to associate these pieces and the piano sound with me. Music is a powerful and sometimes unexplainable force.'
A truly personal affair and in keeping with the original style of the first Klavirni, all the Dilo's were recorded improvisations by the composer on her home piano, this time in Berlin. Dilo 7 from the first album has been streamed more than 15 million times on Spotify and there will also be a 'Red Edition' repress of the album on vinyl.
This release marks the 5 year anniversary of Emika Records, celebrating 5 years of independence since her days with Ninja Tune. This is also the final release in her Emika Records catalog before starting a new venture in 2020 with more details to follow later in the year. 'Klavirni Temna' which means dark piano in Czech, explores the relationship between dark and light, good and evil, death and rebirth.

Track list:
1. Dilo 21 / 2. Dilo 22 / 3. Dilo 23 / 4. Dilo 24 / 5. Dilo 25 / 6. Dilo 26, /7. Dilo 27 / 8. Dilo 28 / 9. Dilo 29 / 10. Dilo 30 / 11. Dilo 31 / 12. Dilo 32 / 13. Dilo 33 / 14. Dilo 34
Emika has also announced further tour dates that kick off Feb 15th in Cologne, Germany.
Emika live dates:
Feb 15th – Cologne, DE @ Gewoelbe
Feb 20th – Moscow, RU @ Moscow Planetarium
Feb 28th – Berlin, DE @ Berlin Zeiss Planetarium
Feb 29th – Berlin, DE @ Berlin Zeiss Planetarium