If you've been following the trajectory of TTRRUUCES, you'll have seen that the duo place creativity and imagination at the forefront of everything they do. Spinning free of the confines of genre. they've created an otherworldly narrative that's been further explored with a series of striking videos.
Now TTRRUUCES' vision is set to be fully unleashed with the news that they'll release their self-titled debut album on June 26th. The album is launched with the new single 'Evil Elephant' alongside an official video.
Written as a rock opera, the album is a dream-like adventure, simultaneously euphoric and disorientating in both mood and execution. At its core is the story of a Sad Girl and a Lost Boy, whose quest to acquire a new drug named TTRRUUCES takes them on a mind-altering journey. The album's sound is equally audacious. The Anglo-French duo – Natalie Findlay and Jules Apollinaire – are full of starry-eyed ambition, and have crafted a saturated fusion of symphonic pop, boisterous beats and reflective ballads. Each song is accompanied by a visual which will ensemble into a final movie.
The first character that the narrative introduces is Sadie, the 17-year-old Sad Girl. She's disenchanted, depressed and out of place in the world. Desperate and unhappy at home and in need of real sensations, she leaves home looking for a new experimental blue substance TTRRUUCES, promising to expand your mind and offer true happiness. We're then transported to the local disco, where we meet Syd, the Lost Boy. He's a little older than Sadie, but he's also an outsider. He can't find his lust for life, despite living a hedonistic existence of risk-taking and epic nights out.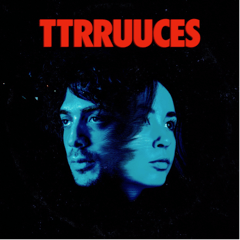 They meet and together they embark upon an unlikely rite-of-passage, which encompasses experimenting with TTRRUUCES, inducing an insanely powerful bad trip followed by and ecstatic and Joyfull roadtrip, ultimately, the possibility of a spiritual awakening and a life-long bond.
The album's intoxicating narrative is matched by a similarly adventurous genre-twisting sound. 'Sad Girl' mines the buoyancy of '60s baroque pop, British '70s alt rock and modern French pop; 'The Disco' imagines a kind of tropical laser-guided mirrorball dancefloor; 'Lost Boy' and 'I'm Alive' are big, groovy old school hip-hop beats that out-Beck Beck; and 'TTRRUUCES' is a mind-altering, heavy-sounding psychedelic nightmare. It comes to a conclusion with 'Sleepyhead', the dreamiest of finales, written and recorded in one night during a particularly blissful acid trip.
The album came together in a small house in Brittany, where TTRRUUCES relocated for 8 months and played almost every instrument you hear. TTRRUUCES produced everything themselves, before coming back to London where the final product was mixed by Alan Moulder (Arctic Monkeys, The Killers, Foals).
"We wanted to create a new platform for our creativty," affirms Jules. "Something that's super-exciting, super-free and diverse, with no limits on what the music could be."
"We wanted to make an album that wasn't just a collection of songs, but something more conceptual," adds Natalie. "We wanted to challenge ourselves as writers."

That approach also informs TTRRUUCES' new single 'Evil Elephant', a twisted, surreal Disney-style anthem by way of ternary techno. The track's video, directed by Malvalien, is a dazzling animated visualisation which starts upon the statement: "If the doors of perception were cleansed, everything would appear to man as it is: elephant." This discomforting display domesticates our docile friends as we see elephants everywhere: laughing maniacally in the mirror, studying evolution and informing renaissance-era art, as their leader, President Trunk, vows to "Make elephants great again."
Tracklisting:
1. Sad Girl
2. Sensations of Cool
3. The Disco
4. Lost Boy
5. Bad Kids
6. TTRRUUCES
7. Evil Elephant
8. Stranger Now Forever
9. I'm Alive
10. Something Inside
11. Sleepy Head
TTRRUUCES' debut album is now available to pre-order/pre-save from here.
Just like the album narrative, Jules and Natalie's story began as a fortuitous boys-meet-girl moment. Jules had left Paris for London to pursue his passion for music, and met Natalie while he was working in a cafe in East London. She'd left Manchester for the capital to start her career in music, and the pair progressed from chatting at the coffee counter to making music to living together. Their HQ is a converted warehouse they've named The Factory, a home/studio which is also used for hosting TTRRUUCES parties and gigs.
TTRRUUCES – Sad Girl
TTRRUUCES – TTRRUUCES [Official Video]
https://www.facebook.com/Ttrruuces/