TTRRUUCES ' recently released self-titled debut album is shaping up to be a cult favourite for those who discover it, with fans becoming enamoured by their sprawling blend of genres, unorthodox approach to story-telling and engaging visuals. Greeted with glowing reviews, TTRRUUCES  debut is more than a colllection of good songs, it is an opera for listeners to immerse themselves into as mapped on their interactive website.
TTRRUUCES now present a life-affirming snapshot of the album with their new single 'The DISCO'. It's a floor-shaking, fleet-footed, rhythmic recognition of the sheer love of music, in which everything else comes secondary to a passion for mirrorball space disco energy, the grit of 60's psych and the pulsating joy of AfroBeat-tinged pop.
The song also represents an important part of the album's narrative. It provides a first impression of how hedonistic the Lost Boy Syd's life has become, before his life is changed when he meets with Sadie, the Sad Girl.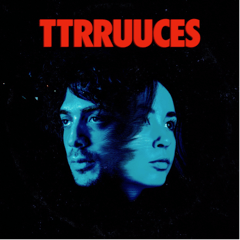 "This was the first video we shot, and thank god we did, because you couldn't film a video like that nowadays anymore. It was an important one, because we had to find and cast our Lost Boy that will come back in every video. Izzy (the director) told us she knew the perfect guy, we didnt know how right she was then. We met Basti and instantly knew he was the one. He was exactly how we pictured our Lost Boy. He is now part of the TTRRUUCES Family and gave life to our fictional character" says the band.
'The DISCO ' is released alongside a suitably effervescent video. Syd drops into the local disco,  sinks a drink and the vibe immediately shifts gears. As the dancefloor ignites, Syd leads a fervent force of disco devotees, gets lost into the depth of the night surrounded by a multidude of characters ranging from flamboyant youngsters to an older man in a sweatband and a feline friend.
The video represents the directorial debut of Izzy B. Phillips, the frontwoman of Brighton band Black Honey. It was filmed late last year at the Ridley Road Market Bar in Dalston.
"The disco was magic to make, for me it's a London Fear & Loathing twist on the classic disco we all know and love. I'm excited to put this video out and loved the concept of the album so working with Nat and Jules came really naturally to me," says Phillips.
TTRRUUCES ' debut album  was recorded in a small house in Brittany, where they  relocated for 9 months and played almost every instrument you hear. It was subsequently mixed by the venerated Alan Moulder (Arctic Monkeys, Smashing Pumpkins, Beach House) and mastered by France's leading engineer Chab (Daft Punk, Christine & The Queens).
https://www.facebook.com/Ttrruuces/