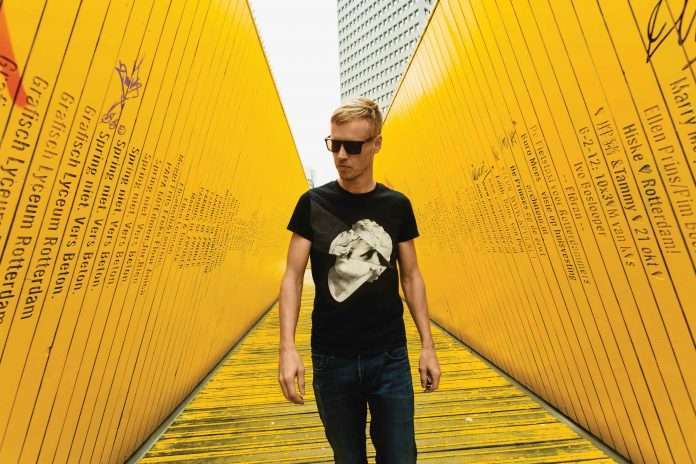 Featuring over 100 tracks and remixes from Joris Voorn (exclusive), Biosphere, Plastikman, Kölsch, Roman Flügel, Speedy J, Nathan Fake, Secret Cinema, and many more.
Global Underground enters a new decade with a ground-breaking release in the label's city series: GU43: Joris Voorn, Rotterdam. The GU City albums are synonymous with landmark releases from Carl Cox, Sasha, John Digweed, Danny Tenaglia, and many more, and with GU43: Joris Voorn, Rotterdam, the Dutch artist guarantees himself a place in the canon with an astonishing mix that deconstructs, manipulates, and blends over 100 tracks, into one expansive whole.
Included within this mammoth tracklist is 'Kassandria', Joris Voorn's forthcoming single release from GU43 (out 16 October). GU43: Joris Voorn, Rotterdam is available as a 2x CD book pack, 3x heavyweight coloured vinyl, digital, stream, and a limited collector's edition with 110 page photo book and 4x 12" square art prints. This continued commitment to physical formats, including collectors and limited editions, comes at a time when, during the covid-19 pandemic, Global Underground has seen greater interest and demand for physical music releases.
GU43 follows Joris Voorn's fourth artist album '\\\\', released in 2019. Inspired by the European electronic scene in the mid 90s, '\\\\' features collaborations with Underworld, Lazarusman, Michiel Bortslap and HÆLOS, and marked a key moment in the continued evolution of one of the Netherland's most respected electronic music artists. Born in 1977 in Tilburg, a medium-sized city located an hour's drive south from Rotterdam, Joris Voorn grew up around music (his father was a composer). He swapped violin and acoustic guitar from his childhood when he discovered groups like Nine Inch Nails, Orbital and Underworld; later falling for the Detroit techno of Derrick May, Jeff Mills and Robert Hood.
Rotterdam, the city known for darker, harder electronic music – especially gabber and before that neubeat from nearby Belgium – is significant as the birthplace of Voorn's career: it's where he threw himself into club culture and made the decision to pursue music first time, and where he made a name for himself across the city, scoring live gigs and DJ gigs, most often at Of Corso Club. His time in the city has helped spawn an incredible DJ career that's taken him to every corner of the globe, four artist albums, dozens of EPs and singles, several high-profile mixes and compilations, and countless happy fans.
Over the 100-plus strong tracklist, GU43 Joris Voorn, Rotterdam both lays bare the city's influence on Joris and demonstrates his exhaustive approach to mix albums. Instead of mixing live on vinyl or CDJs, Voorn uses Ableton to edit, arrange or otherwise alter his songs, creating mixes that are as precise and calculated as they are emotional and timeless. It's a method he's been using since his mix for Fuse in 2005, but that was perfected on his infamous Balance 014 compilation in 2009, which saw him blending loops and samples of more than 100 tracks into two mixes.
Not only does Voorn's Global Underground album go further than any previous mix he's released, but it does so with a keen eye toward his career birthplace. The mix blends tracks and remixes that Joris has played at modern Rotterdam events like Toffler Festival and Annabel Club, including new music from rising star producers, and old classics that Joris has reinterpreted and now featured exclusively for Global Underground – these nods to the city's musical past sit alongside contemporary collaborations with Rotterdam artists Secret Cinema and Speedy J.
JORIS VOORN SAID:
"Rotterdam is a city close to my heart, it's where I started my career as a music producer, and gave me the inspiration to make my first tracks. GU43 takes you on a true journey…. One moment you feel you're in the industrial Rotterdam harbour, next you're in the vibrant cultural city centre. Sometimes you're in a dark tunnel under the river that splits North and South before coming up to the tranquillity of a green park. GU43 is an ode to the city that gave me a life in music."
#GU43: Joris Voorn – Rotterdam – Tracklist
CD1
Kettel – Hongkong
Innere Tueren – Eden (Version)
Zenzizenz – Umi
Joris Voorn – Alpha 7
Cyspe – Void
Microglobe – Trust 
Joris Voorn – Midi Sans Frontieres 
Nathan Fake – Pentiamonds
NEAT – Them Gs 
President Bongo/Óttar Sæmundsen – 1° Quadrante (Club Version 1)
Pépe – Recollection
Shade Of Drums – Path
S.Channel – Distant Shores
Swoose – Lotus
Andu Simion – Olymp
Fredo Guerre & Francisco Ruiz-Tagle – Little Helper 361-6
Biosphere – Black Mesa (feat. Joan Lorring & Leslie Howard) (Joris Voorn Remix)
Disarmed: Disarmed (Lovestruckk Remix)
D-Leria – Landed in Another Place
Marino Canal – White Atlas
HyperSOUL-X – The Eastern Nations (Main HT)
Floppy Sounds – Entertainment (Blue Miniature Morph) 
Joris Voorn – GU43 Ambient Fill
Raxon – Introspect
Aisha Devi – O.M.A. (Abul Mogard Remix)
Plastikman – Disconnect
Kaap – Overtoom
Joris Voorn – Ultron
Die Wilde Jagd – Morgenrot (Vactrol Park Remix)
Julien Chaptal – Amazone
Linn Elisabet – Uncommitting
Genius Of Time – Peace Bird
Marino Canal – Curious Eyes
GHEIST – Der Blaue Reiter
Joris Voorn – Sonder 
Reeko – Blue Tool#1
Reeko – Street Tool#4
Feral – Polar Sun
Atom™ & Tobias. – Aux I
Pulso – Dentro Del Pimpollo Está La Nuez
States Of Flux – Road
Pépe – Recollection 
Joakuim – View 
Ohm & Kvadrant – Skagerak 
Tibi Dabo – Hire The Birds (DJ Balduin Powerdive Mix) 
Joris Voorn – Float
Kaufmann – Black Horsey
Joris Voorn – Auto Drone 1 
Pär Grindvik – The Act
Martin Landsky – Triage 
Secret Cinema & Joris Voorn – Syrinx
Willaris. K – Cobaki Sky (Prequel)
Blue Veil – Jaguar Eyes 
Reeko – Control Tool#2 
States Of Flux – Pro12Arp  
Joris Voorn – The Matrix
Sky Civilian – Open Door (Joris Voorn Edit)
Artefakt – The Blue Hour (Valentino Mora Cosmic Trans Rephrase)
Joris Voorn – God
CD2
Mario Hammer And The Lonely Robot – Razljubít
Fennesz – In My Room
nthng – Shine
Luigi Tozzi – A New Hope
Landside – Signs Of Change (Etapp Kyle Remix)
Joris Voorn – Kassandria
Crump – Bones
Reggy Van Oers & Joachim Spieth – Mammatus
Joris Voorn – Acid Flow
Bode Frequency – Time Machine (Dub Mix)
Raimond Ford – Astral Angel
Human Space Machine – Rebirth
RAAM – Raam 8.8 64
Linn Elisabet – Charioteers
Markus Suckut – F-0710 to Frankfurt
Joris Voorn – Nea Skioni
PAN-AL – It's Nice To Miss You Too 
Christian Bloch – Construct (VC-118A Remix)
Bxentric – Envelope 
Joris Voorn – Echo
Joris Voorn feat. Sky Civilian – Fever Dreams
Conforce – Atrum
Fadi Mohem – Life Cycle
Primal Code – Caimano Tribe
Rone – Esperanza (Joris Voorn Remix)
Joris Voorn – Navigator
Colyn – Khazad Dum
Joris Voorn & Speedy J – 35mm
natural/electronic.system. – Libeccio
Marincu – Slip Side
Metric System – Studio 440-3 
Perko – Rounded
Ohm & Kvadrant – Øresund
UBX127 – Kopat
AD & The Persuader – Construct 1621
Qindek – Come Closer (Edit Select Remake)
Yamaneko – Fall Control
Joris Voorn – The Tower Of Naphtali 
Bakground  & Sangam – Carousel
Kölsch – Shoulder Of Giants (Joris Voorn Remix)
Blue Veil – Return To Forever
Bode Frequency – Time Machine (Dub Mix) 
Luigi Gori & Frankye Lova – Narrow (Ataman Live Remix)
Brian Cid – Be One
Ness – Bionic Harp
LSG – The Train Of Thought Remix (Joris Voorn Remake)  
Joris Voorn – Psyche 
CJ Bolland – There Can Only Be One
Einmusik – Dread (No Drums Mix)
Lie2You – Obsession (JV Edit) 
Dicabor – Ix (Robert Babicz)
Noun (Daniel Avery & Roman Flügel) – Meeting Of The Minds
Monarke & Soul Button – Passage 
Jonathan Kaspar – Kali
John Beltran – It's Because Of Her
Monotronique – First Touch
Paraphex – What We Leave Behind
https://www.facebook.com/jorisvoorndj