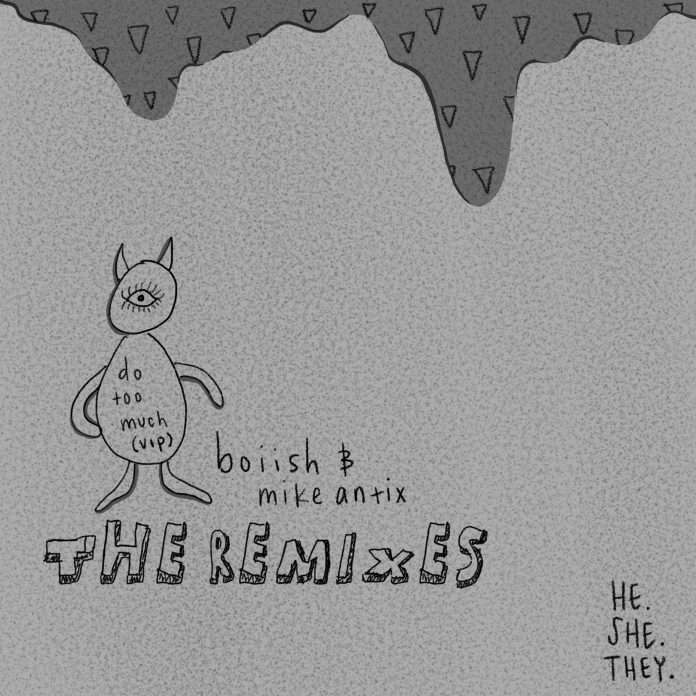 Following the widespread success of boiish and Mike Antix's Do Too Much, genre-defying label HE.SHE.THEY. release two more remixes. On this occasion, Elliot Adamson will be on duty once more, fresh from producing November's Tokyo Mix edit, whilst US-talent Monsieur Frazier debuts alongside.
Speaking on the release, Monsieur Frazier described how he was inspired by the "sounds, rhythms, and grooves that sparked my love of proper house music, which is that of 90's New York house and U.K. Garage."


Elliot Adamson's Cosmic Ballroom Mix leads proceedings, melding celestial synth tones with subtle, dream-like keys. Cosmic pads provide a feeling of surrealism throughout, whilst whispering hats glide gently along. Monsieur Frazier soon takes the helm with a pumping 4×4 mix of the original. Swinging kicks converge on choppy hats, whilst a groove-lead piano roll chimes on in the background to form a ripe-and-ready dancefloor cut.
Release Date: 4th December 2020
Tracks
boiish & Mike Antix – Do Too Much (Elliot Adamson Cosmic Ballroom Mix)
boiish & Mike Antix – Do Too Much (Monsieur Frazier Mix)
At just twenty five years of age, Elliot Adamson has cemented his standing as a leading force in contemporary house and techno. Last year saw the UK-native receive a DJ Mag 'Best of British' nomination for 'Breakthrough Producer', before former Mixmag cover star Patrick Topping swiftly brought him on as A&R for his Trick label and party series.


Monsieur Frazier is no stranger to the global music scene. Cutting his teeth in Los Angeles, he is the co-founder of the LA-based record label, event production brand, and creative collective, Understated and Understated Recordings, as well as a resident of seminal US nightclub Sound.
Operating as an event series, record label and fashion brand, HE.SHE.THEY. is at the forefront of the contemporary inclusive movement. Acting as a safe space for individuals regardless of "age, race, sex, gender, ableness, religious background or sexual preference", the brand's ethos is to "create a planet without prejudice for people to be people". A noble ambition, the label offshoot provides a platform for queer and marginalised artists to showcase their talent.
https://www.facebook.com/boiish/