Apollo welcomes back German production duo Boozoo Bajou this March, as the pair deliver their ethereal five-track EP, 'Lambique'.
The duo behind Boozoo Bajou is Peter Heider and Florian Seybeth, a pair whose formidable career began in the mid-nineties. Peter is a multi-faceted artist and well-trained drummer with strong musical influences from jazz, funk and neo-classical experimental music, whilst Florian previously worked at a record shop and ran his own club. Both have performed as DJs at clubs and festivals worldwide. Along with numerous remixes they have released on Apollo , !K7 and Stereo Deluxe, and here they continue to build on their impressive discography with their latest offering 'Lambique'.
Laidback opener 'Jadiz' combines harmonic strings with captivating tones and delicate pads to deliver a genuinely nebulous sunset production. 'Auxerre' is a cinematic adventure that leads perfectly to the unique and cerebral 'Nacht Plätscher', a track fueled by bright synth lines, emotive chords and slo-mo drums which come together perfectly. 'Daytripper' takes listeners through to another dimension, awash with tropical melodies leading to stunning closer 'Shimmer'. This production strives to take listeners through to the early hours of the morning and the late-night of the evening; it's a hypnotic number that shapes up this impressive EP in emphatic fashion.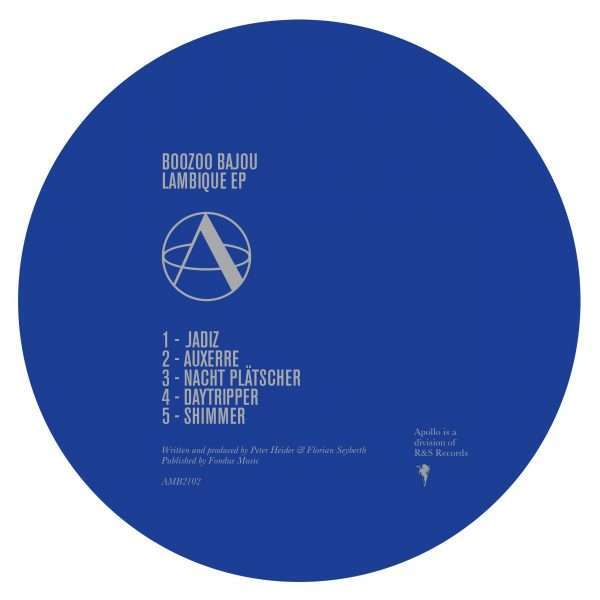 Boozoo Bajou's 'Lambique' EP drops via Apollo Records on 4th March with an early release of 'Nacht Plätscher' and 'Daytripper' on 4th February.
Tracklist:
1. Jadiz
2. Auxerre
3. Nacht Plätscher
4. Daytripper
5. Shimmer

https://www.randsrecords.com/
https://www.facebook.com/ApolloRecs
https://www.facebook.com/boozoobajouofficial