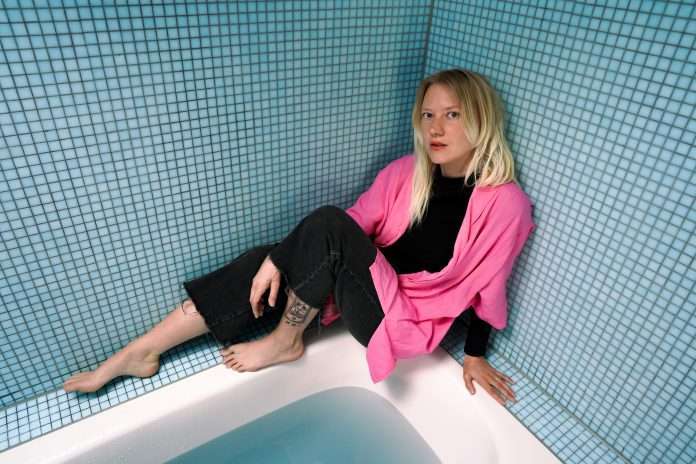 With her second album SODA, Belia Winnewisser continues on the path she has been following for quite some time. Few share the Swiss artist's knack for combining a sensibility to the enthusiastic potential of pop with an interest in niche references of experimental sound design.
In recent years, her feel for this fusion brought Winnewisser to the attention of the electronic club music scene. This world and the various genres related to it leave their mark on SODA: sing-along anthems like "So Real" and the densely layered drone of "They Cry of the Sirens" stand alongside the feverish dance track that gives the album its name and rave bombs like "Solen." A year without club nights allowed Winnewisser to fully embrace her flair for pop and experimentalism, which resulted in more than a mere series of nods to different genres and acts. SODA—both as a resonant title and as a collection of music—is a direct call without hidden meanings or implicit references. It's simply the path she's on and the way she's going.
Belia Winnewisser produced the music for SODA in the second half of 2020. First sketches composed during a residency at a museum for electronic music instruments in Fribourg were finished in the Norwegian backlands. Aside from these places, Winnewisser's structured working day at a Swiss soap manufacturer—a place that would develop a significance during the pandemic few would have predicted—left its trace on SODA. Her job demanded an equally structured approach to the creation of the album.

At the beginning of 2021, the artist finished the work on SODA with the help of two other people. Together with the Cologne producer Phillip Jondo, she went back to the tracks to tease out their remaining potential. Some might consider this collaboration an external imposition on creative agency. For Winnewisser, it was a regular part of the process, who was familiar with such an approach from her various band projects. She then developed the design for SODA's artwork with the Zurich-based graphic designer Kaj Lehmann. It is inspired by the light-hearted and cartoonish aspects of 1990s hardcore rave. The design once more exhibits Winnewisser's sensibility to the mass appeal of a genre often celebrated for its obstreperous harshness.
SODA appears on the Lucerne label Präsens Editionen, which previously released the artist's debut album Radikale Akzeptanz. The LP follows the single Shesells by L.Zylberberg, with whom Winnewisser worked on a split EP in the past, as well as albums by Samuel Reinhard and Magda Drozd.
SODA would not have been possible without the support of the cultural department of the city of Zurich and the FUKA Fonds of the City of Lucerne.

Präsens Editionen
Belia Winnewisser – SODA
Release Date:2nd July 2021
Format: Vinyl & Digital
Track List:
01. Ancient Monument
02. Solen
03. So Real
04. Peacful Darkness
05. The Cry Of The Sirens
06. BT
07. The Cave With Lost Leaves
08. SODA
o9. The Queen
https://www.facebook.com/beliawinnewisser/