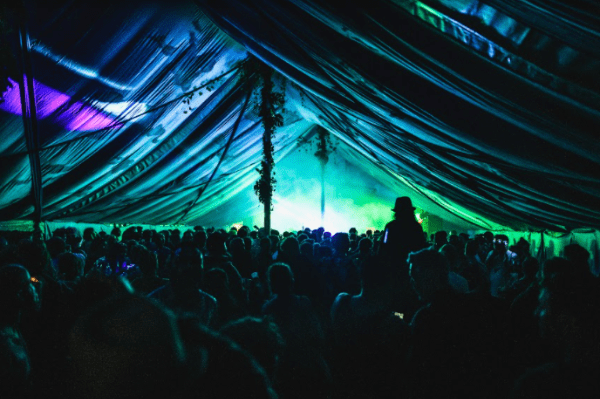 Expect Ross From Friends, Dan Shake, Luke Vibert, Norman Jay MBE, DMX Krew, Maxxi Soundsystem, Saoirse, Yu Su, A Sagittariun and more nestled into an intimate 5000 capacity, two day event
Carefully crafted into one of the most unique and inclusive small-scale gatherings in the UK, Farmfest is a bubbling blend of unfettered festival frolics and humming party vigour. It is consciously capped at 5000 guests and set within the rolling hills of Somerset. Farmfest is back fighting the odds with a very late license, four dance stages and top-drawer line up. This fearless festival is one for the calendar. It takes place on Friday 30th – Saturday 31st July 2021, with adult tickets set at £99.
Still remaining completely independent and sponsor-free, Farmfest is a twisted mix of genres, people, and merriment. The ironically named Ross From Friends will step in as this year's dance headliner, finding himself a breakout star in 2018 and since then bringing about a nostalgic, light-hearted approach to the forefront of the house genre. Slightly further down the pecking order, we have the everlasting Dan Shake whose name in recent times has become household to say the least. Dan is joined by Luke Vibert, the timeless DJ who burst out of the 80's Cornwall scene alongside Aphex Twin and Tom Middleton. Norman Jay MBE and The Reflex support.
As the temperature falls, Farmfest's keeps on rising. With an atmosphere that's slowly but surely been stirring all day, the people and the party will run long into the night. To support this, DMX Krew's two-decade prevalence will create a bass-heavy atmosphere like no other. He'll be supported by Maxxi Soundsystem, Saoirse, Yu Su, A Sagittariun, Cheeba and Danielle.
As far as modest festivals go, Farmfest is bursting at the seams with talent. With 48 hours of jam-packed music other high jinks include comedy, workshops, plenty of activities for kids and families, and the Friendly Records Social Club (a new addition for 2021). Plus, the famous annual Hat Competition! From papier mache monsters to intergalactic explorers, Farmfest has seen some of the most marvellous creations over the event's 15 year history.
DJs
1020 Radio (Takeover) | A for Alpha | A Sagittariun | Admin B2B Sam Bhok | Alfresco Disco | Bitch, Please! | Bodywork | Boogie Cafe | Boys Club (Takeover) | Cheeba | Chez de Milo | Civilisation of the Rough | Dan Shake | Danielle | DJ Retro | DMX Krew | Dusty Grooves | Feel The Real | Friendly Records DJs | George Oscar | Here Come The Robots | Luke Vibert | Marco Bernardi | Maxxi Soundsystem | Norman Jay MBE | Northern Soul Girl | Nu balance | Pamoja Disco Club | Restless Nights | Ross From Friends (DJ Set) | Samantha Start | Saoirse | SHAPES Allstars | Strange Love Inc | The Reflex | The Vinyl Social DJs | Thrilogy (Fate and Fiction) | Tumbian | Worm Soundsystem | YUSU
Further information and tickets
https://farmfestival.co.uk/