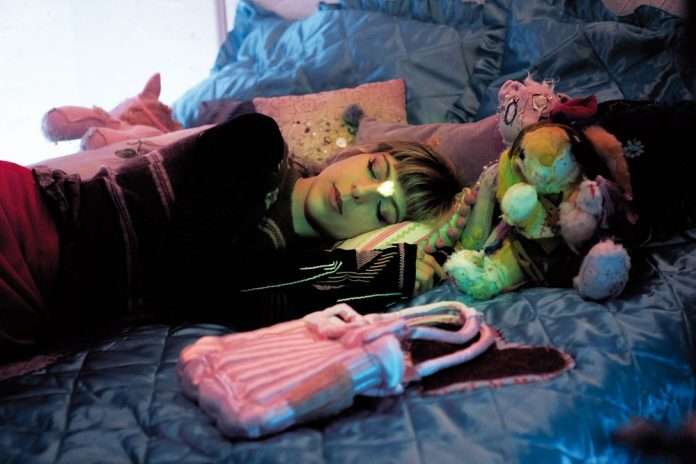 London-based producer, vocalist and songwriter caro♡ announces her self-produced debut album 'Heartbeats/Heartbreaks', out September 3rd on PC Music.
Described by caro♡ as "a collection of reveries", her debut album takes place in a dreamworld inspired by her childhood on the French Riviera. Across the expansive 14-track project, songs ebb and flow in intensity, ranging from washes of ambient synth to busier beat-and-bass tracks that buoy caro♡'s ethereal vocal melodies. "The title 'Heartbeats/Heartbreaks' isn't necessarily a romantic idea," she explains. "It's more the idea that it's okay to be super sensitive. Good, even. If your heart breaks, then your heart beats."
"I didn't know the difference between a songwriter, a producer or a composer as a kid "
Caro's upbringing in the remote stillness of coastal France has also deeply shaped her relationship to creativity. "I value the fact that I grew up in that bubble because as time stands still there, it really feels like a dream most of the time and I've been infused with that," she explains. "I also feel like an outsider having grown up in a place where there's no cultural industries, and I like that very much. I didn't know the difference between a songwriter, a producer or a composer as a kid so I didn't build these boundaries in my head".
Following a series of recent releases, the album is accompanied by the latest single 'over u', along with a video by photographer and filmmaker Aidan Zamiri, known for his work with artists like Shygirl, Caroline Polachek, and Rina Sawayama.
A founding member of the neo-shoegaze outfit Planet 1999, caro♡ — alongside bandmates Charles and Alex — were the first full band signed to PC Music, where they released their debut 'Devotion' EP. Lauded by the press, including Dazed who praised their "taste for sharp, melodic songwriting and, crucially, emphasis on emotion", the EP cemented both the band as a key rising group to watch and their label as a powerhouse of talent. As Planet 1999, the group also collaborated with Charli XCX on her album Charli and supported labelmate Hannah Diamond on her French tour.
Tracklist
1. le grand bleu
2. hide me here
3. moonrise
4. over u
5. heart in two
6. wild at heart
7. drop in the ocean
8. sad song 33
9. 4U
10. 7 waves
11. sad song 77
12. marseille
13. 20k feet under
14. do you believe in forever
https://www.instagram.com/ultra_caro/