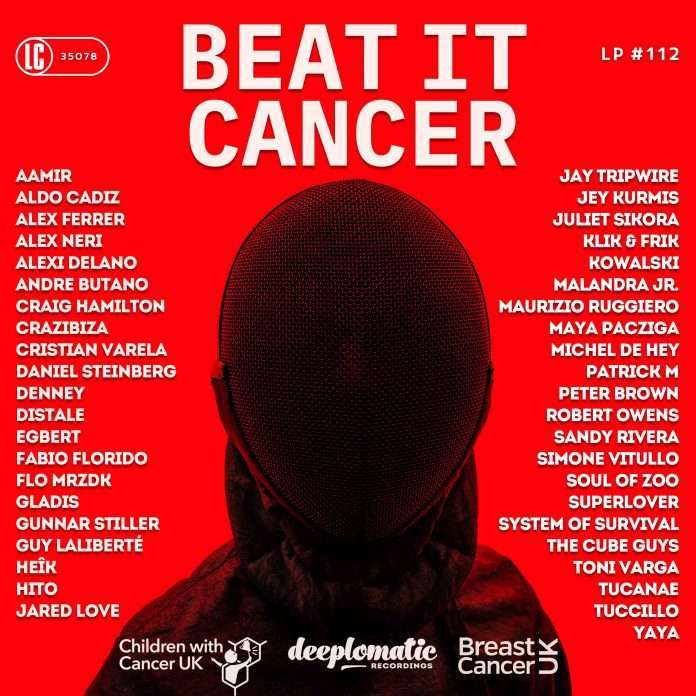 Deeplomatic has released the album "Beat It Cancer" on International Breast Cancer Day.
The album aims to raise awareness about cancer through electronic music and boost donations towards cancer prevention organizations. For this purpose, Deeplomatic has teamed up with Breast Cancer UK and Children with Cancer UK, two charitable organizations working to prevent cancer through scientific understanding, collaboration, education and policy change. All profits related to this album will be donated to Breast Cancer UK and Children with Cancer UK for cancer research.
"Beat It Cancer" consists of 35 tracks ranging from Deep House to Techno from artists such as Sandy Rivera, Yaya, The Cube Guys, Toni Varga, Denney, Cristian Varela, Simone Vitullo, Hito, Crazibiza and label boss Alex Ferrer among others.
"Many of the artists, felt drawn to the project as they have lost friends, family and colleagues to cancer. It is a personal project for myself as well, hope we can provide our grain of sand to the collective fight of this horrible disease" Alex Ferrer.

Tracklist:
1. Aamir – Underwater (Original Mix)
2. Aldo Cadiz & Andre Butano – Jakes (Original Mix)
3. Alex Ferrer & Tucanae – Breath of Hope (Original Mix)
4. Alex Neri – Total Recall (Original Mix)
5. Alexi Delano – Festina Lente (Original Mix)
6. Craig Hamilton – The Sound (Original Mix)
7. Crazibiza – Welcome to The Good Life (Original Mix)
8. Cristian Varela – Relax37 (Original Mix)
9. Daniel Steinberg – Take Five (Original Mix)
10. Denney – Sunrise 3.1 (Original Mix)
11. Distale & Gunnar Stiller feat. Robert Owens – Always in My Mind (Original Mix)
12. Egbert – Avontuur (Original Mix)
13. Fabio Florido – Dawn Lights (Original Mix)
14. Flo Mrzdk & Juliet Sikora – Sancho Pancho (Original Mix)
15. Gladis – Lost in Amalfi (Original Mix)
16. Guy Laliberté & Soul of Zoo – Road of Life (Original Mix)
17. Heîk – Cephalus (Original Mix)
18. Hito – Tramonto (Original Mix)
19. Jay Tripwire & Jared Love – Elektron 1 (Original Mix)
20. Jey Kurmis – Jxrdan (Original Mix)
21. Klik & Frik – Muyu (Original Mix)
22. Kowalski – Dub Nights (Original Mix)
23. Malandra Jr. – Colours (Original Mix)
24. Maya Pacziga – Satrincha (Original Mix)
25. Michel De Hey – All the Things She Said (Original Mix)
26. Patrick M & Maurizio Ruggiero – The Record (Original Mix)
27. Peter Brown – Get Over (Original Mix)
28. Sandy Rivera feat. His Bitter Truth – Nights in Paradise (Original Mix)
29. Simone Vitullo – This Record (Original Mix)
30. Superlover – My Kordbot (Original Mix)
31. System of Survival feat. Jude Elliott – Technology Philosophy (Original Mix)
32. The Cube Guys – Never Change (Original Mix)
33. Toni Varga – No Way (Original Mix)
34. Tuccillo – Wannado (Original Mix)
35. Yaya – Bla Bla Big Mouth (Original Mix)
Support
https://deeplomatic.com/beat-it-cancer/