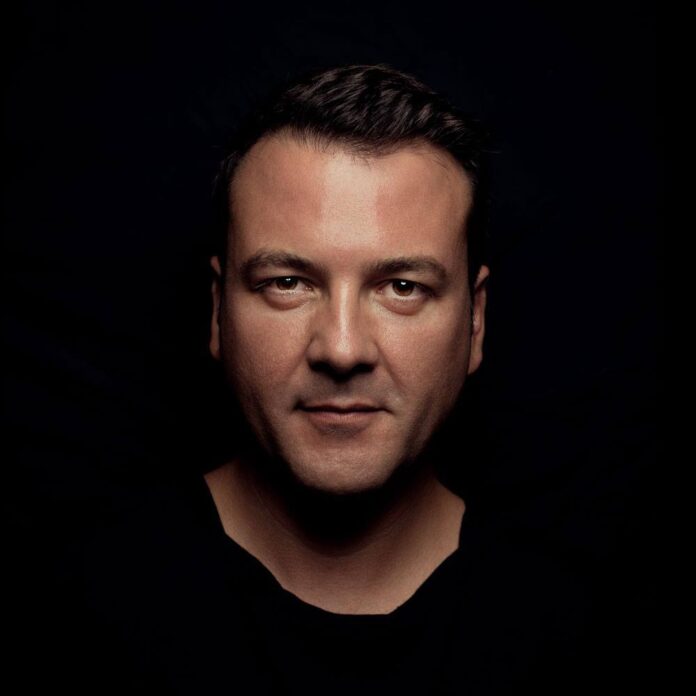 Sunrain is taken from Kiko Navarro' s new LP 'Sounds Of My Breath' out 24th June on Afroterraneo Music
Folklore and spirituality abound in 'Sounds Of My Breath', the new long-player by Kiko Navarro, issued on Afroterraneo Music
'Sunrain' is a cover version of a track by Manuel Götschin, the musical genius behind timeless classic 'E2 E4'. Götschin was also part of the band 'Ashra', and it's their 1977 tune, 'Sunrain', that Kiko chose to cover here, upping the tempo and soaring into the stratosphere. "When I first heard it, I became obsessed and listened to it over and over. I felt this song would match, somehow, this project. I'm so happy with the results, and can't wait to play it in the club" he says.
Inspired by the voice and breath-work techniques of qigong teacher Nader Behravan, 'Sounds Of My Breath' explores a broad palette of musical colours, painted large and bright by Kiko Navarro's bold and assured brushstrokes.
Iranian-born, German-raised qigong practitioner Nader Behravan had, at first, approached veteran Mallorquin DJ and producer Kiko Navarro to produce music for a series of tutorial videos that he was creating. Intrigued by the idea, Navarro initially thought that ambient, chillout tracks might be required for this type of practise, but it turned out Nader Behravan had been a fan of his for years and had sought him out specifically for his signature sound. So the pair embarked on a journey together, with Navarro learning more and more about qigong as he worked on the tracks. Before he knew it, he had an album of unique new music on his hands.
"Thanks to Nader's inspiration I began to explore more music from Asia – getting more folkloric in my sound" says Kiko. "I began to explore music from Iran, because Nadar is from Iran, and this led to learning about the singing style and breathing patterns from that culture. The work with Nader brought these sounds out from inside me. After I got this door open, I was able to reach deep inside and bring out something new, something different."
To accompany the album and take listeners deeper into an interactive, experience, a series of video tutorials featuring Nader Behravan's qigong and breath-work is available at SoundsofMyBreath.com, blended with music from the project. 'Sounds Of My Breath' will also be presented as a 'Live Practise Session', appearing on streaming platforms with Nader Behravan's voice and breath-work featured throughout.
Opening track 'Friendship Motivation' is a typically warm and uplifting downtempo piece from Navarro, with just a teasing nod towards liquid Drum and Bass and a breathtaking Middle Eastern vocal refrain. "This name comes because a good friend of mine requested a track for a yoga compilation" says Kiko. Unfortunately the compilation didn't work out, "so I kept it for my project- but I'm so grateful to my friend for motivating me to write it."
Slow-mo 4×4 gem 'Mixing Cultures' reflects Kiko's widening musical vistas as he discovered more about Nader Behravan's ancient Eastern practice of qigong. The track blends sounds from Japan with those of South East Asia, as exemplified by its Balinese vocals.
Featuring French DJ Fudge, who now resides in Spain, 'Ecume' is another genre-blurring cut, mixing dramatic Arabic vocals and strings with sublime warm downtempo electronics which ebb and flow like water. In fact, the title translates from French to 'sea foam'.
'Ogun In ta Été We (She Is Calling) features the voice of Dana Mamam, an Israeli vocalist and proponent of capoeira, living in L.A. As well as running a capoeira school and cultural centre, Dana is also a follower of Candomblé, a blend of Yoruba, Fon and Bantu religions, brought to the Americas from Africa by the transatlantic slave trade. The song lays out a conversation between Ogun and Oshun- two 'orishas', or deities, from the faith.
"Tracks 'Early Innocence' and 'Solitude' come from the same source" says Kiko. "pure inspiration from the music of Steve Reich". A warm and comforting Afro-House cut in 6/8 signature, 'Early Innocence' is so titled because he heard children playing outside while composing the song, and the sound fitted so well that he added it to the recording. "There's a message of purity" says Kiko. "Kids, before they're contaminated by the society in which we live… before that, they're pure souls- I know because I have two."
Also in 6/8 signature, 'Solitude' is a more minimalist, classically-inspired piece with an intriguing and constantly unfolding arrangement. "When I was producing it, I was completely in my own world, enjoying the solitude" says Kiko. "It wasn't a sad feeling, it's about enjoying your self, and enjoying being alone."
Album title track and first single from the project 'Sounds Of My Breath' is the one that started it all- a percussive and meditative piece of house music, featuring Nader Behravan's introduction to breath-work. As Behravan puts it: "the sound of your breath is telling everything about the way you feel, and the state of your soul, and your body."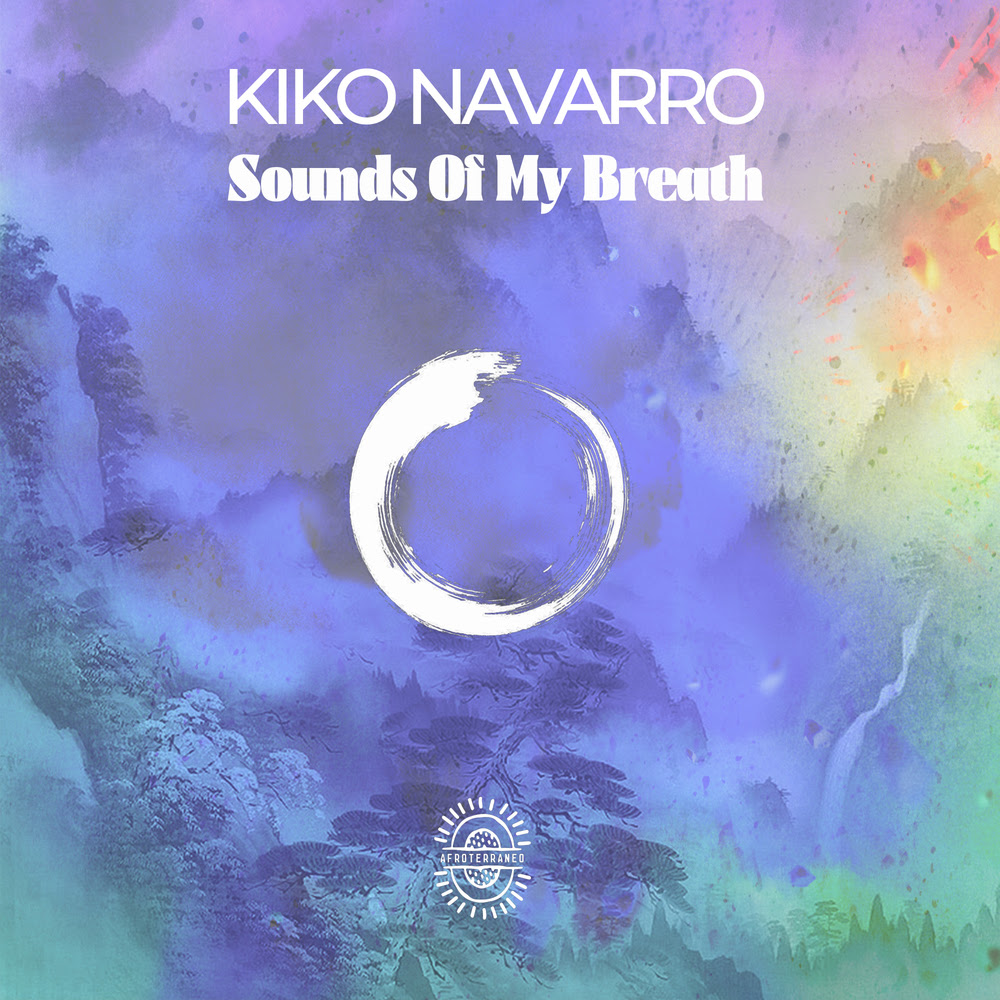 Featuring one of the most respected and creative proponents of the ambient / chill-out genre, John Beltran, 'We Made It Happen' moves into dance-floor territory with an elegant deep house groove. "He's one of the masters" says Kiko of Beltran. "He has a completely unique style to create arpeggios. I asked him if he'd like to collaborate on the album- to send me one of those special arpeggios that only he knows how to do. The title is for John, but also for Nader – we did it guys! With Nader, we just had a few ideas, and now we have this album taking shape. With John, I'd wanted to work with him and his special arpeggios for a such a long time. And here we are."
The album closes with 'You Take Over', also featuring breath-work instruction from Nader Behravan. "It's like a freaky acid trip, with his vocals," says Kiko "and the last track I finished for the album. I like to leave the listener with that kind of message: now you take over! That acid bassline calls back to my first love, the 303 sound I fell for when I first came into contact with electronic music back in '88."
Extending their mission to spread wellness, in congress with the music, the pair will also be performing live at events and festivals this summer, with Nader leading a short class before Kiko performs a DJ set, continuing the healing work on the dance-floor.
Listen or Download album here

Tour Dates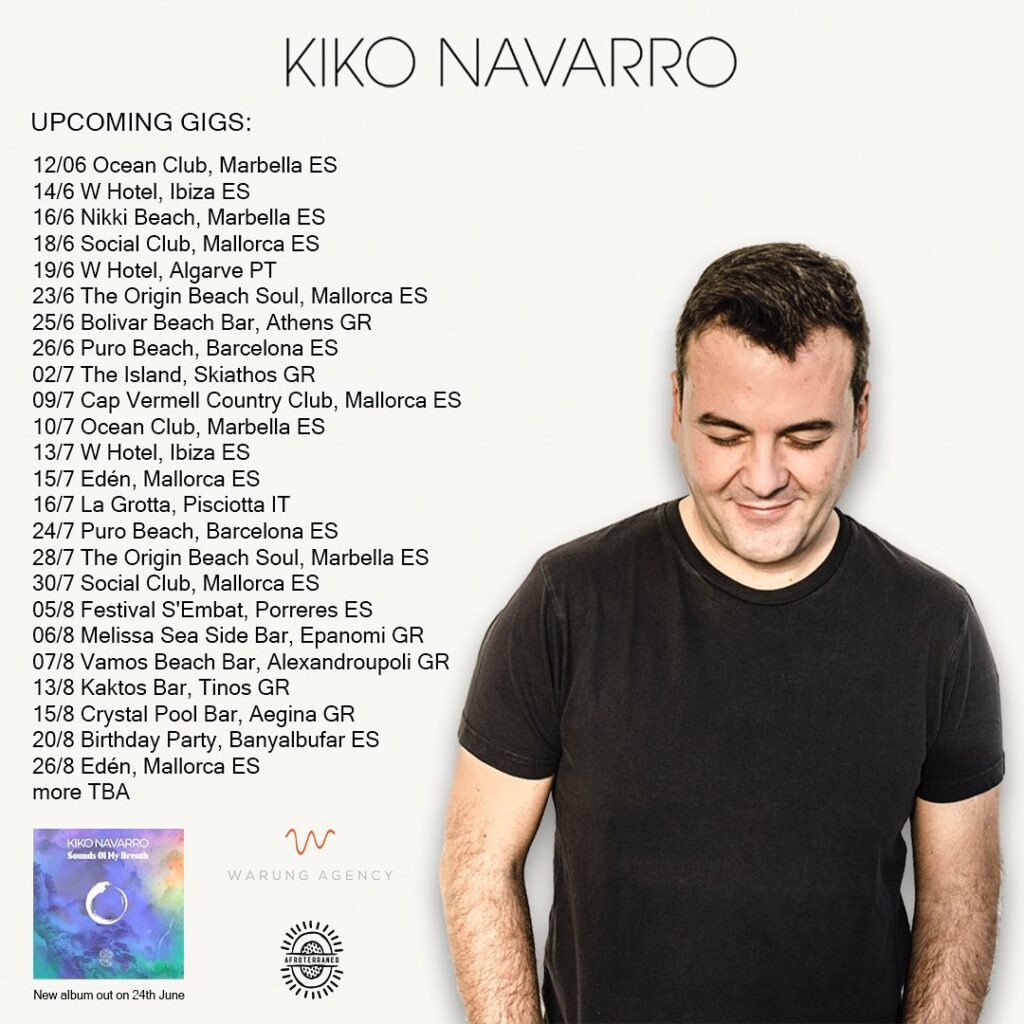 Connect: Artist, Label, Support
https://www.facebook.com/kikonavarroDj
https://www.facebook.com/afroterraneo