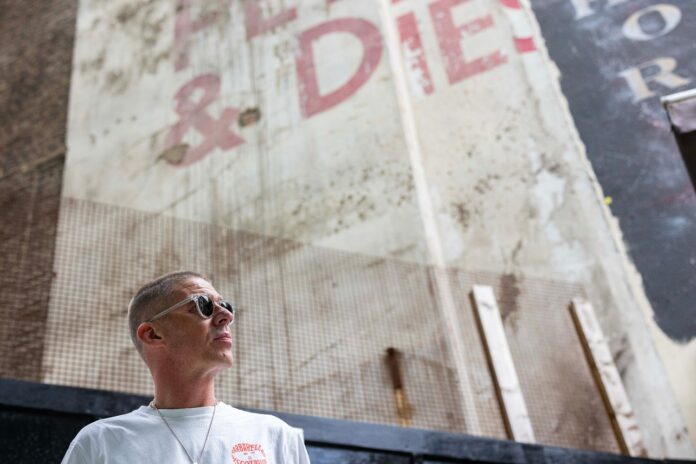 Coming as the final preview to his forthcoming album, Let Loose, The Shapeshifters (aka Simon Marlin) covers a post-punk classic from Talking Heads, 'Slippery People.' With the pending release of The Shapeshifters' studio album drawing ever closer, this striking cut makes a joyous final preview of his first LP since 2006.
Featuring Honey Dijon collaborator Ramona Renea and Bronx-born Glitterbox regular Fiorious on vocal duties, fresh new layers of rich strings, horns, and percussion add shimmers of classic disco to this funk-fuelled cut. 

Across the latest and long-awaited studio album, Let Loose, his first LP since 2006, The Shapeshifters pledges rhythmic allegiance to the golden era disco records and their spellbinding qualities; embracing the tension often found between tradition and future to craft a euphoric, certifiable body of work presented to the devoted audience he garners. The Shapeshifters exemplifies a flourishing scene, one that is now engaging an ever-younger fan base. With Marlin and Glitterbox at the heart of the modern disco sound, it's easy to see why The Shapeshifters are more in demand in the clubs than ever. Their relationship sees not only unrelenting mutual respect for dance music's rich history but the inclusivity and enduring liberation that is rooted within it.
The fourteen-track album is illuminated with vocal collaborations including the recently released and debut collaboration with the Grammy, Tony, and Emmy Award-winning Billy Porter, 'Finally Ready' and 'Life Is A Dancefloor' featuring CHIC's Kimberly Davis both playlisted on BBC Radio 2.  The album's "The One That Got Away" also features London-born multi-instrumentalist and vocalist Obi Franky who has recently joined The Shapeshifters on tour with impeccable summer performances at Glitterbox @ Hï, Café Mambo, On Tour at Castle Howard, Defected Croatia and Brixton Disco Festival.
Taking an impeccably smooth course through the disco-infused house, The Shapeshifters continue the rich relationship with Glitterbox and its record label; one that has yielded instant classics such as 'Try My Love' featuring Teni Tinks; undoubtedly hailed as the Glitterbox anthem that epitomizes the label's ethos for preserving disco's mission to uplift and empower.
"When I decided to continue The Shapeshifters legacy on my own in 2017, I knew that I could produce music with no compromises and in a way that I had always wanted to return to – taking a classic approach to songwriting and producing and moving the sound I love forward. Using techniques laid down long before me by the likes of Gamble and Huff, Quincy Jones, and my good friend Frankie Knuckles, and with the help of incredible musicians, and co-writers with fresh voices and ideas, the aim was to create a soundtrack for the latest generation of Disco and House lovers to Let Loose to on dance floors across the world." Simon Marlin – The Shapeshifters


The Shapeshifters 'Let Loose' will be released on November 11 via Glitterbox Recordings.
The 14-track LP features collaborations with Billy Porter, Joss Stone, Kimberly Davis, and Teni Tinks
Stream or Download The Shapeshifters "Slippery People" here
Stay tuned at House ConnectFM Tracks of the Week selection to Listen First The Shapeshifters's new music

Follow
https://www.facebook.com/theshapeshifters/