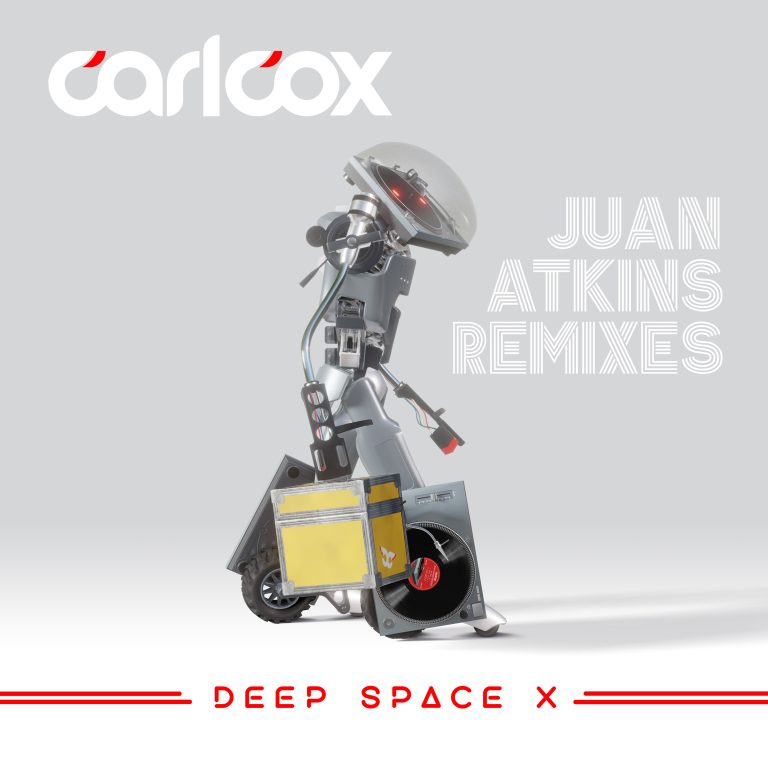 This Record Store Day (22 April 2023) the undisputed king of electronic music, Carl Cox joins forces with Detroit techno pioneer Juan Atkins for a very special limited edition 12" vinyl remix package of Carl's 'Deep Space X' – only available in stores.
Taken from Carl's recent critically acclaimed album 'Electronic Generations' – Juan Atkins has put his own spin on the track, skilfully re-working the original and presenting it here with his remix, a remix dub and two instrumentals.
Adding a vocal to wobbly basslines and weird robotic bleeps, 'Deep Space X's futuristic feels transport you straight into outer space, with glistening sci-fi sounds luring you in before Juan's added beats thrust you into oblivion. It's cosmic techno at its finest from two of the game's biggest innovators.
A major electronic music pioneer, Juan Atkins appeared behind aliases such as Cybotron, Model 500, and Infiniti releasing many classics of Detroit techno. The 1982 electro track "Clear", recorded by Atkins and Rick Davis as Cybotron, is often considered the first proto-techno track. Continuing to experiment by fusing the extra-terrestrial funk of Parliament Funkadelic with the futuristic rhythms and hard math of Kraftwerk and the progressive dance theorems proposed by Giorgio Moroder, the Model 500 12″s on his own label Metroplex laid the blueprint for Detroit techno.


Since then Atkins has continued as one of the most prolific and sought after producers of electronic music, packing out clubs all over the world, Juan has mastered the art of soaking up new rhythmic elements from contemporary dance music while keeping his unerring, instantly recognizable sense of melody intact.
With over 30 years under his belt as one of the undisputed kings of dance music, Carl Cox has achieved both legendary and cult status. An iconic figure who has worked tirelessly and consistently to advocate for club culture, he has become a global ambassador and hugely influential figure who utilises his position to push the culture forward. Carl's exhaustive list of achievements is incredibly impressive and dates back to the formative years of acid house in the UK. Carl's fifth album 'Electronic Generations' is representative of his unwavering passion for the advancement of club culture and his own growth as an artist. A purposeful step out of his comfort zone as an accomplished and innovative DJ and selector, 'Electronic Generations' is the result of his forays into the world of machine-driven live performance – released to critical acclaim in December 2022. It's an album that is unapologetic in its upfront, no nonsense sonic identity – an uncompromising statement of intent that stands alone as a legacy to Carl's commitment to dance music and the community and culture around it.

Carl Cox 'DEEP SPACE X' Juan Atkins Remixes is out on UK Record Store Day – 22 APRIL 2023
FOR MORE INFORMATION VISIT: https://recordstoreday.co.uk/
Stay tuned at Techno Trip Tracks of the Week selection and Listen to Carl Cox's new music first

Follow
https://www.facebook.com/carlcox247