Chicago's Dark Heaven offers up the 'La Chasse' compilation this July, featuring nineteen original compositions by artists from across the United States, Brazil, and France.
Founded in 2021, Dark Heaven is a Chicago based event company and collective focused on curating immersive experiences with underground electronic artists, installation/visual artists, and queer performance artists. With bookings from the likes of Matrixxman, Nikki Nair, Overland, Ariel Zetina, Sard, Beau Wanzer, and kryptogram, Dark Heaven thrives in DIY spaces but has also made rounds in the club circuit, most recently at Smartbar and Podlasie Club. In late 2022, co-founder and artist Vorp, with the help of collective partner follidh, began curating La Chasse, translating to "the hunt" in French, launching Dark Heaven as a record label with a various artist compilation album.
With the 'La Chasse' compilation the Dark Heaven imprint has pieced together a broad spectrum of sonic influences. Across nineteen tracks the collection traverses through Electro, Jungle, Techno, Bass, Microhouse and Experimental Electronica. Tracks like D.Strange's 'Eros', DVS NME's 'Herr Elektromotoren' and Francois Dillinger's 'Persist To Resist' employ classic Electro tropes with crisp drums, cinematic synth textures and gnarly bass lines. IVVY's 'Unstable', Lokua's 'Keep It Going', PV5000's 'DJ Do Baile' and COMMON GROUND's 'User Frndly' shift the focus over to raw techno with high octane rhythms, and intricately intertwined synth work.
Double Dipp's 'Shock Me', Ommen's 'a few things wrong with me', 'Detroit Receiving' by Gino and Clarissa's 'An Ode To Nothing' embraces a deeper, more reduced house aesthetic with a focus on low-slung 4/4 drums and textural atmospherics. Flex Blur also turns in a straight jungle workout driven by amen breaks and dreamy pads with 'Doute', KEEFE lays down breaks tinged 'Big Donk Energy' and Club Drippy turns in a murky slice of electronica with 'Crashed'. The likes of Jace Inman, Linquency, Mafgar, rising star of Miami Sel.6 and Vorp then diverge into experimental realms with their contributions, each employing intricately programmed, off-kilter rhythms, and expertly crafted sound design for a truly unique listening experience.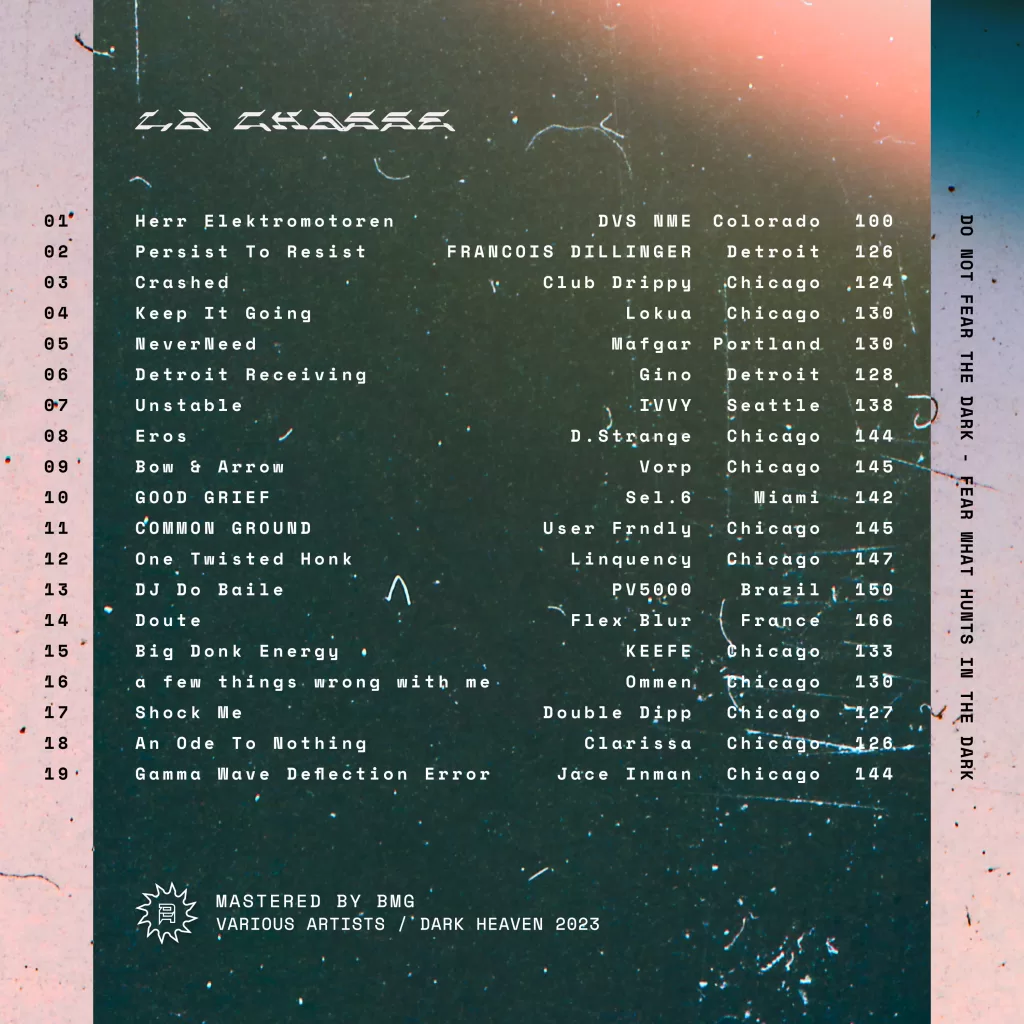 V/A 'La Chasse'
Release Date: 18th August 2023
Track List:
1. DVS NME – Herr Elektromotoren
2. Franois Dillinger – Persist To Resist
3. Club Drippy – Crashed
4. Lokua – KeepItGoing
5. Mafgar – NeverNeed
6. Gino- Detroit Receiving
7. IVVY – Unstable
8. D.Strange – Eros
9. Vorp – Bow & Arrow
10. Sel.6 – Good Grief
11. UserFrndly – COMMONGROUND
12. Linquency – OneTwistedHonk
13. PV5000 – DJDoBaile
14. Flex Blur – Doute
15. KEEFE – Big Donk Energy
16. Ommen – a few things wrong with me
17. DoubleDipp – ShockMe
18. Clarissa – An Ode To Nothing
19. Jace Inman – Gamma Wave Deflection Error
Stay tuned at Futuristic Tracks of the Week selection and Listen to Dark Heaven's new music first