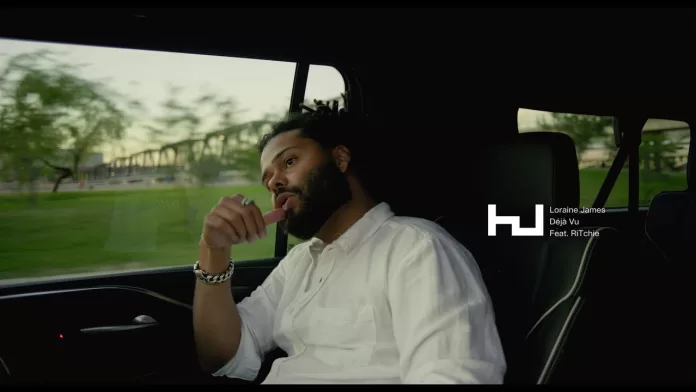 Loraine James new single and video 'Déjà Vu' feat. RiTchie is taken from her upcoming album 'Gentle Confrontation', released on Hyperdub in September
Déjà Vu features RiTchie from Arizona rap group Injury Reserve on vocals. A mutual admiration brought them together to collaborate. Over crunchy beats and a gentle piano melody, with a sing-song rap, RiTchie works through a clash of anger, trying to break down what happened and make amends.
It's an instance of 'Gentle Confrontation'. The video by Parker RiTchie's partner in Injury Reserve, shows RiTchie gliding in the back of a car in a single shot that complements the contemplative feel of the music perfectly.

Tracklisting
1. Gentle Confrontation
2. 2003
3. Let U Go ft KeiyaA
4. Déjà Vu ft RiTchie
5. Prelude of Tired of Me
6. Glitch The System (Glitch Bitch 2)
7. I DM U
8. One Way Ticket To The Midwest (Emo) ft Corey Mastrangelo
9. Cards With The Grandparents
10. While They Were Singing ft Marina Herlop
11. Try For Me ft Eden Samara
12. Tired of Me
13. Speechless ft George Riley
14. Disjointed (Feeling Like a Kid Again)
15. I'm Trying To Love Myself
16. Saying Goodbye ft Contour
Tour dates:
27.09 Monarch, Toronto, ON
28.09 Piccolo Rialto @ POP Montreal, QC
29.09 Public Records, New York, NY
01.10 Empty Bottle, Chicago, IL
03.10 Polaris Hall, Portland, OR
04.10 Barboza, Seattle, WA
08.10 Echo, Los Angeles, CA
12.10 Village Underground, London, UK
13.10 Headrow House, Leeds, UK
14.10 Berkeley Suite, Glasgow, UK
15.10 Sneaky Pete's, Edinburgh, UK
18.10 Strange Brew, Bristol, UK
19.10 The White Hotel, Manchester, UK
20.10 Bad Bonn, Dudingen, CH
27.10 Bienalle, Venice, IT
28.10 Semibreve, Braga, PT
31.10 Zdb, Lisbon, PT
01.11 Botanique, Brussels, BE
02.11 Petit Bain, Paris, FR
17.11 TBC, Barcelona, ES
18.11 Rewire x Le Lieu Unique, Nantes, FR
22.11 Muziekgebouw, Amsterdam, NL
Tickets here
Photo Credit: Ivor Alice
https://www.facebook.com/lorainejamesmusic