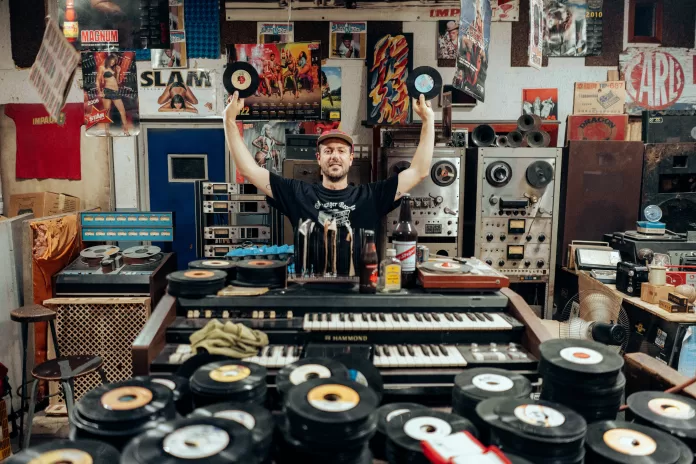 Molécule is back with "RE-201", a new album that combines his passion for House music, Jamaican music and the studio. This project represents an important step in his artistic journey. It brings together all the elements that have made the identity of this unique musician since the 2000s, such as his love for sound as raw material to work with, in situ recording, dub and studio techniques, as well as his passion for the physical dimension of music and the emblematic machines of the techno revolution of the 90's.
RE-201 is an intimate album for Molécule who has been fascinated by the legends of Jamaican music since his adolescence.
To pay tribute to this sound culture that inspires him so much, Molécule went to Small World Studio in Kingston in June 2022, where he recorded the voices of Johnny Clarke, Cédric Myton, Leroy "Horsemouth" Wallace, Jah Thomas, Prince Alla and Big Youth. Back in the studio, with this incredible vocal material and the emotions of his trip to Jamaica, Molécule had in mind to create an album of instant pleasure. RE-201 is an instinctive record that dares to operate an alchemy between the voices of Jamaican music and the codes of the legendary French Touch movement.


To produce such an album, Molécule collaborated with important figures of the French scene. Boombass, Étienne de Crécy and Dj Falcon co-produced three tracks on the album. Additionally, Molécule worked with Julien Delfaud for mixing and Alex Gopher for mastering, to pay homage to Jamaican wizards by teaming up with their most talented French disciples. In his search for the perfect sound, Molécule also collaborated with Hervé Déjardin of Radio France for the spatialization of the album, in order to indulge the listener with transcendent immersion.
In summary, RE-201 is an instinctive, solar and dancing album that revisits the codes of house by bringing a deeply passionate energy. Molécule works his magic by mastering house sound, studio gear and paying fitting homage to Jamaican music.

Molécule – RE-201
release date: 6 October 2023
format: vinyl & digital
tracklist:
1 Music feat. Jah Thomas
2 Horsemouth feat. Leroy Wallace
3 Creation feat. Prince Alla
4 Love feat. Johnny Clarke
5 Lonely feat. Johnny Clarke
6 Flex
7 Europe feat. Cedric Myton
8 Aurore
9 Us feat. Big Youth
10 Joy feat. Big Youth
Stay tuned at House ConnectFM Tracks of the Week selection and Listen to Molécule's new music first

Photo Credits: Goledzinowski
Follow Molécule
https://www.facebook.com/moleculesound