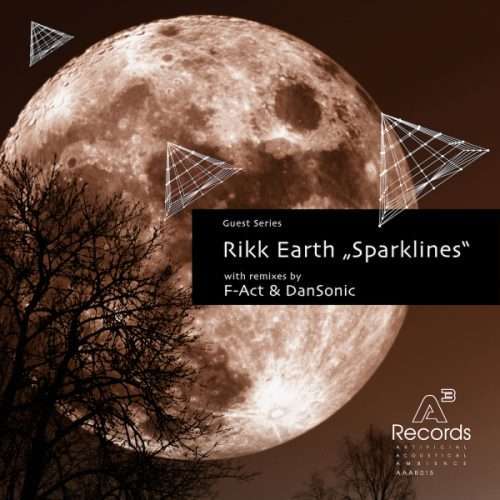 The latest release from Artificial Acoustical Ambience Records welcomes Rikk Earth to the label for his debut single entitled 'Sparklines'. Hailing from the Netherlands, Ricardo de Graaf aka Rikk Earth first appeared on the progressive house scene in 2016 with a remix for LuPS Records. Finding a comfortable home on the Dutch imprint he went on to record two singles and two remixes for the label over the next two years. His deep, emotive take on the genre has been well received and now leads him to his first single for Artificial Acoustical Ambience Records alongside remixes from F-Act & DanSonic and DanSonic.
The original mix leads the release off and finds the Dutch artist exploring emotive vocals and impassioned melodies for a stunning collage of colour and sound. Warm and fluid from the outset, it's smooth chord changes and driving energy quickly become infectious. Indie-style vocals flow through the framework as radiant pads and dulcet themes merge for an exhilarating apex.

The first interpretation of 'Sparklines' is provided by F-Act and DanSonic who present their debut collaboration here. Bruno Kaufmann aka F-Act has been a beloved talent in the progressive music scene for nearly a decade. The Swiss artist has a meticulous discography highlighted by appearances on Baroque Records, Bonzai Records and John OO Fleming's JOOF Recordings. Now landing back on Artificial Acoustical Ambience Records, F-Act teams up with label boss DanSonic for a stunning rendition of 'Sparklines'. On a backbone of rolling beats comes tranquil atmospheres and delicate vocal motifs. Meditative rhythms quickly suck you into its pulsating core, before the vocal narrative opens up and quirky electronics transition the piece into radiant tonal designs. Emotive and timeless in equal measure, this is one your dance floor will remember long after night is over.
The release concludes with Artificial Acoustical Ambience Records label boss DanSonic providing the final interpretation of 'Sparklines'. The Swiss artist is fresh off his 'Collage' single where he showcased a deeper side of his studio repertoire. That ethos continues here as he provides a sultry take on 'Sparklines' which complements the previous two versions wonderfully. Charming vocals combined with drifting motifs and tantalizing symphonic concepts elevate the mood, perfectly setting up a glowing main break. Swoon worthy to say the least, the track's centrepiece melts down to a delicate emotive reservoir, highlighted by warm swells and glowing pads, perfectly shifting energy into a smooth, stripped down second act to round out the piece. Incredibly groovy yet serene and atmospheric, it's harmonic disposition make this an absolute joy to listen or dance to. A stunning remix from DanSonic which rounds out another must have release from Artificial Acoustical Ambience Records. Highly Recommended.
Release Date 07/12/2018
Tracks
Rikk Earth – Sparklines (Original Mix)
Rikk Earth – Sparklines (F-Act & Dan Sonic Remix)
Rikk Earth – Sparklines (Dan Sonic Remix)
Connect Artist,Label,Support
https://web.facebook.com/ricardo.degraaf.1
https://web.facebook.com/DanSonicMusic
https://web.facebook.com/aaarecords
https://www.beatport.com/release/sparklines/2447399