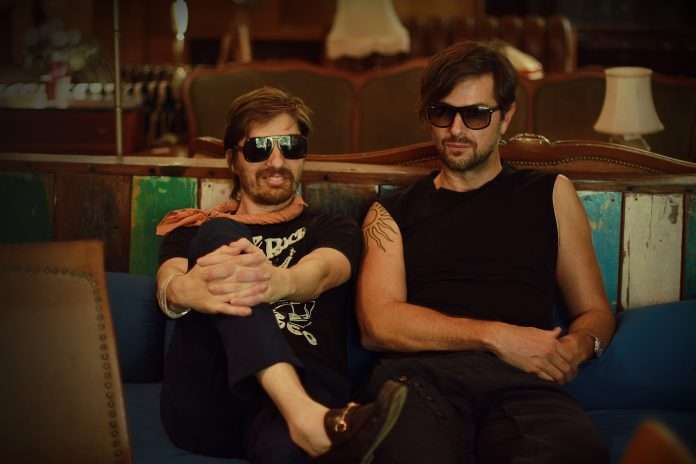 Italoboyz feat. Durant – Midnight Summer Dream
The enigmatic duo, Italoboyz, bring their distinct sound to Crosstown Rebels, and invite Crosstown affiliate Yulia Niko to provide the remix.


Marco Donato, one half of Italoboyz, describes the making of the track as being "very spontaneous. I produced this track alone in a very Italoboyz style". Of the digital only track, 5.05 AM, produced alongside Blind Minded, he explains that they'd "been experimenting with guitars and pedals, and lots of effects and distortions. Big up to Blind Minded for the structure and the idea behind this track, his contribution on this is invaluable".
The original cut of Midnight Summer Dream is a fourteen minute epic journey through time and space. The track is dark and dreamy with Durant's tripped out vocals entwined with uplifting, cosmic arpeggios. Yulia Niko develops a deeper bassline on her take- stripped back with a grungier style. 5.05 AM, produced alongside Blind Minded employs an extended intro with cinematic and mysterious sonic twists and turns.
Released: 1st February 2019
Tracks
A Midnight Summer Dream
B Midnight Summer Dream (Yulia Niko Remix)
Digi Italoboyz vs Blind Minded – 5.05 AM
Italoboyz, the duo of Marco Donato and Federico Marton, have been on a musical voyage since 2002. They have released over a hundred tracks for revered imprints including VIVa Music, Moon Harbour and Circus. In 2012 they launched their seminal label Superfiction, alongside Blind Minded, with the aim to create a movement. Yulia Niko has released on esteemed labels such as Get Physical, Plant74 and MATTER+, In 2017 Mixmag named her as one of their '20 Artists To Know Who Are Rising From The Underground'. Yulia also recently launched her vinyl only imprint, TochnoTechno.
Listen : Italoboyz vs Blind Minded – Sisco Power
https://web.facebook.com/italoboyzofficial/
https://web.facebook.com/blindminded