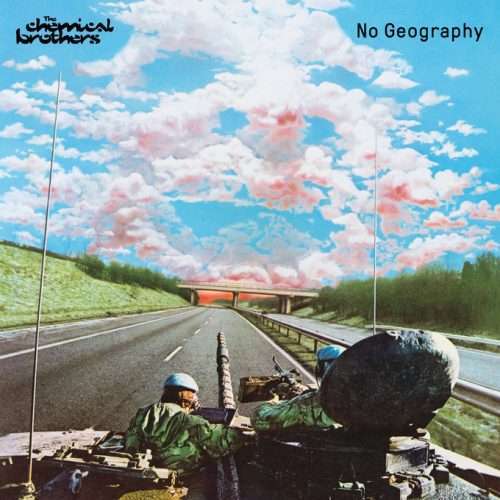 The Chemical Brothers have announced details of the ninth studio album, No Geography. The album is due for release on Virgin EMI on 12th April 2019, and today unveil the latest single – the irresistibly euphoric Got To Keep On.
At some point during the recording of No Geography, Tom Rowlands and Ed Simons pushed the reset button. It began with the construction of a studio within a studio – a tiny makeshift room that housed the kind of kit they'd previously used to record the bulk of their first two albums; equipment that had sat gathering (freestyle) dust in Tom's attic for the last twenty years. That experimental space offered a freedom and the chance to create music and tell their own story in a way they hadn't done for years.
Wherever possible, things were done differently. Randomness and jagged edges were encouraged and songs were built around vocal samples; voices were wound tightly into music that Tom and Ed found themselves following wherever it led them. Snatches of dialogue from the late '60s experimental Dial-A-Poem project were chosen that reflected the mood in the studio. Songs were road tested in front of audiences as part of the 2018 live set (which took in two shows at Alexandra Palace – the band's biggest UK headline shows to date) and honed in regular DJ sets the world over.

The resulting album is an extraordinary musical liberation; a record that stands alongside the duo's classic debut Exit Planet Dust and the rabbit-hole psychedelia of 2010's Further – the Chemical Brothers albums that respectively wrote the rules and then reimagined them entirely. Hurtling from righteous rage to wide-eyed wonder, from half-speed acid to jacking house and dreamy analogue noise, it's nothing less than a route map to the future.
No Geography features the previously released tracks Free Yourself and MAH ("a short & bloody ride into our modern media psychosis" The Guardian) and the forthcoming single Got To Keep On. Several of the tracks on No Geography feature vocals by Norwegian singer/songwriter Aurora who wrote and recorded parts in the band's studio in close collaboration with the band. Japanese rapper Nene features on Eve of Destruction.
No Geography tracklist:
1. Eve Of Destruction
2. Bango
3. No Geography
4. Got To Keep On
5. Gravity Drops
6. The Universe Sent Me
7. We've Got To Try
8. Free Yourself
9. MAH
10. Catch Me I'm Falling
No Geography is the follow up to 2015's Grammy nominated album Born In The Echoes (their sixth consecutive UK No 1 album).
As previously announced, The Chemical Brothers take their phenomenal, deeply psychedelic live show on the road following the album's release for a series of arena shows and festival headlines across the globe this year:
Sat 11th May Corona Capital Guadalajara Festival, Mexico
Sun 12th May Arena, Mexico City, Mexico
Wed 15th May The Shrine, Los Angeles, USA
Thu 16th May The Greek Theatre, Los Angeles, USA
Fri 17th May Bill Graham Civic Auditorium, San Francisco, USA
Fri 24th May All Points East Festival, Victoria Park, London
Thu 11th Jul Mad Cool Festival, Madrid, Spain
Sat 13th Jul NOS Alive Festival, Lisbon, Portugal
Sun 21st Jul Deichbrand Festival, Cuxhaven, Germany
Sat 24th Aug Creamfields, Daresbury, UK
Thu 21st Nov Leeds First Direct Arena, UK
Fri 22nd Nov Manchester Arena, UK
Sat 23rd Nov Glasgow The SSE Hydro, UK
Thu 28th Nov Cardiff Motorpoint Arena, UK
Fri 29th Nov Birmingham Arena UK