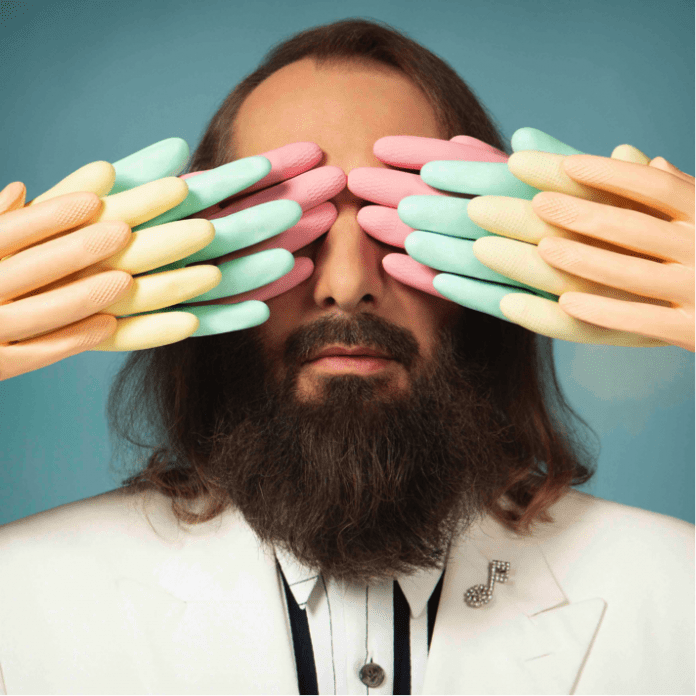 We've come to expect the unexpected from the consistently inspiring Sébastien Tellier. Always one to detour into creative sonic adventures and leftfield lyricism, the Parisian pop genius today shares his new track 'Stuck In A Summer Love'. It previews his upcoming sixth studio album 'Domesticated' which will be released on May 29th and follows the recent singles 'A Ballet' and 'Domestic Tasks.'
Capturing a fresh take on the spirit of his landmark track 'La Ritournelle', 'Stuck In A Summer Love' is a dreamy exploration of sensual beats, sparkling keys and fantastical Franco-pop, a homage to dance productions from the early 2000s. It finds Tellier conjuring the emotions of a sun-kissed romance: one that somehow lingers in the heart long after darkness falls on the fleeting affair.
"It's about being caught in the past, the old teenager I was," he reflects. "It's full of emotion, but also it's like a caterpillar. She's fat and strong. I was very proud of that. It was always my wish to make a song like it, but I never found a way."
The track was produced by Corentin 'nit' Kerdraon, mixed/mastered by Nk.F and features drums courtesy of Daniel Stricker.
The song is launched alongside a video that was directed by long time collaborator Mrzyk & Moriceau (Justice, The Avalanches , Air), who previouly directed the hit track 'Look', with animation from L'Incroyable Studio. Equally as unorthodox as the track, the blissfully offbeat video depicts an animated Tellier driving a vehicle styled in the shape of his face. Things get stranger still, as everything he witnesses is subverted into trippy representations of love and especially sexuality.
'Stuck In A Summer Love' is one of Sébastien Tellier 's personal favourites from the 'Domesticated' album. It plays on the concept of finding the extraordinary aspects in the daily grind of domestic chores. The result is a taut and concise eight track set, an electronica record that buzzes with humanity and the most insistent melodies of his career so far.
https://www.facebook.com/sebastientellierofficial/