Following the buzz of two earlier EPs, Haider gears up for his third release of 2020, this time on Aus Music . The immaculate afterhours jams on 'Dance Now, Cry Later' dip into lo-fi aesthetics, blending them with chic sound design, playful vocal chops and a virtuosic approach.
Opening cut 'Why So Blue' floats effortlessly with blissed out keys, hypnotic drums and warm bass. The introduction of a simple melody and infectious vocal snippets helps craft a prime piece of serene house.
A perfect example of Haider's ability to seamlessly switch gears can be heard on 'Levitate', which pulls together his wide-ranging stylistic influences to create an amalgamation of dancefloor-primed deep house and silky-smooth spaced-out electro.
'Too Close' rounds off the EP with a blend of lo-fi, anthemic trance synth stabs and a buoyant, transcendent escalation in the groove. Radiating the remaining summer sun, this flawless track feels naturally geared to end (online) sets this Autumn in profound style.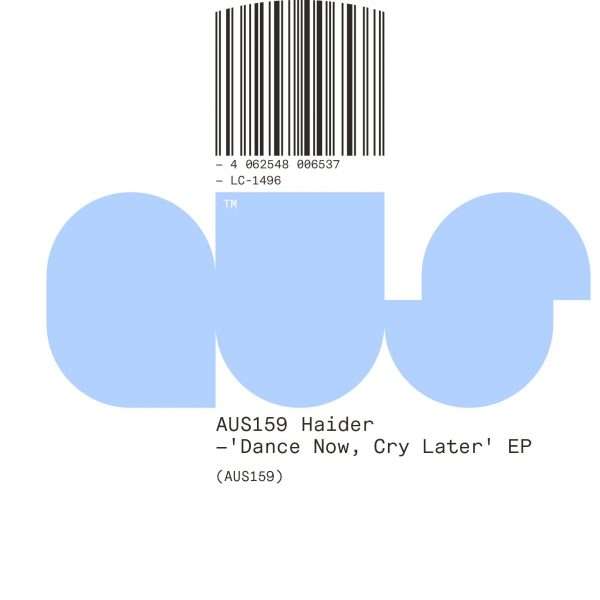 Haider 'Dance Now, Cry Later'
November 27th
Aus Music
tracklist
1. Why So Blue''
2. Levitate'
3. 'Too Close'
Originally cutting teeth in his native Sheffield bassline scene, Haider kicked off his career with the release of his debut record, 'The Lock Off EP', in 2008 under his then moniker DS1.
The following year, Haider was commissioned to remix grime don Tempa T's single 'Next Hype' as DS1. In addition to delivering the remix, he also did a cheeky UK funky bootleg, which became a massive unofficial anthem.
Heavily inspired by the purple sound of artists such as Joker and Starkey, between 2010 and 2013 Haider turned his hand to grime. With early productions being championed by Plastician on Rinse FM and Starkey on BBC Radio 1, both artists went on to release DS1 tracks on their respective labels Terrorhythm ('I DNT KNW') and Slit Jockey ('Emotions Colours and Spacefood'.)
In 2015 while studying at Goldsmiths, Haider discovered Ross From Friends' music, and was so impressed by its potential that he released his debut EP 'Alex Brown'. This marked the first release on Masroor's newly launched label Breaker Breaker, beginning what he describes as "a mission to push forward thinking music, regardless of genre and hype."
Since then Breaker Breaker have released the debut EPs for a broad spectrum of artists, including jazz duo The Colours That Rise (who recently dropped an album on Rhythm Section), Japanese producer RGL and most recently, indie shoegaze trio Night Tapes.

Further displaying a knack for recognising promising musicians and helping quality people to connect, Haider also managed new jazz leaders Yussef Kamaal – helping to book their first tour and signing the now classic album 'Black Focus' to Gilles Peterson's Brownswood imprint in 2016.
Turning his hand to production again, Haider released the first EP under his own name in 2018 with the highly acclaimed 'Do What You Love' EP. Catching the attention of Aus Music's Will Saul, he released the equally high rated '10961' EP on the label last year.
'Dance Now, Cry Later' follows the release of 'Endless Clouds' and 'The Muses Come Out at Night' which have been released on Haider's own Breaker Breaker Records and Mella Dee 's Warehouse Music.
Listen Why So Blue on Deep House Finest Playlist
(photo credit George Nebieridze)