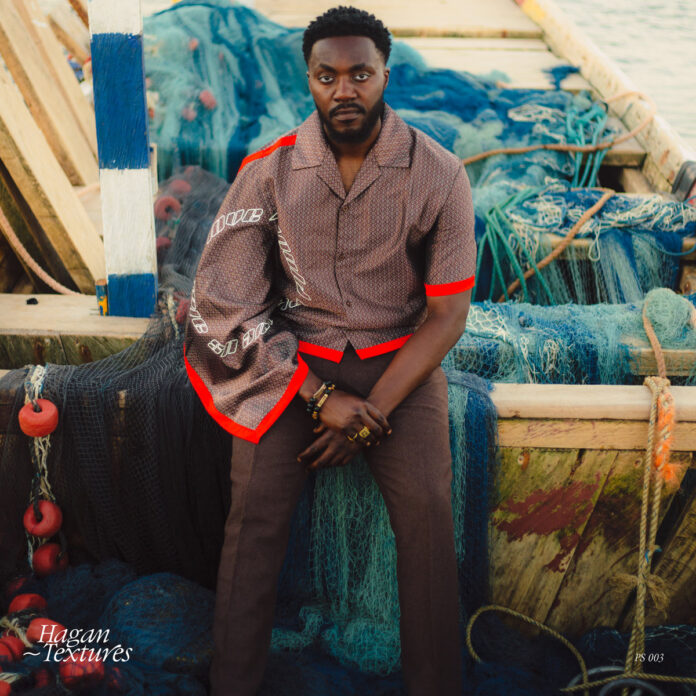 Today, Hagan shares his long-awaited debut album Textures with previously unheard fusion single 'Telha ft. Luedji Luna & Sango' – a sun-kissed percussive track with lush vocals dancing over sparkling guitar riffs and broken beats – out now on Python Syndicate. A stunning debut that showcases Hagan's carefully honed production skills – the product of a life in music – Textures is an homage to global sounds and influences, an expression of his journey of self-discovery and reflection on his British-Ghanaian heritage, and showcases his keen love for collaboration. Recorded between London and Accra, the project draws out a range of Afro-influenced sounds while listing the collaboration of emerging talents across the vibrant landscape of contemporary African music, Aymos, Bryte, Meron T, Ayeisha Raquel, Griffit Vigo and more. A bold step into Hagan's Afrocentric sonic realm and creative vision, the LP is accompanied by an open-source remix project via Discord, several studio session films showcasing the process, and a 7-minute short music film interwoven by Hagan's music and alternated with spoken parts in English and Twi, with a special screening on 30th November, with more details yet to be announced. Hagan today also announces an exceptional launch party on 18th October in the new Peckham venue, Jumbi.*
Speaking on the album, Hagan says,
"Making this album has taken me on a journey of mixed feelings. I've spotted areas of development in my production process but also fine-tuned my strengths to produce a well-rounded Hagan sound. The development of the album opened my mind to previously untapped styles and pushed me out of my comfort zones. At its core, the 'Textures' LP is about being proud of retaining heritage and culture through music but also exploring dual identities through fusing sounds. Embracing the power of rhythm and collaboration, 'Textures' is a fine benchmark for the next."
His first full-length release following acclaimed EPs including Waves (Gobstopper Records, 2020) and Yenyki (Push and Run, 2018), Textures draws out a range of Afro-influenced sounds and follows Hagan's journey back to his roots. With support from DJ Mag, Crack, TRENCH, Trippin, Mixmag, GRM Daily, Pan African Music, Rinse FM, BBC 6Music and around previous singles 'My Love', 'Pray For Me' and 'Sise Ntweni', Textures demonstrates exactly why Hagan is widely celebrated and renowned as a fusionist – perfectly blending elements of Amapiano, Afro-house, UK Funky, Jazz, Neo-Soul, Broken beat and all that's in between with ease on the record. Across 11 tracks, Hagan celebrates and explores the cultures and the deep connections across South Africa, Nigeria, Brazil, Ghana and the UK that have informed his distinctive, percussive-rich sound. An artist not afraid to wear his heart on his sleeve, lyrically, the album touches on a wide range of themes. From the candid exploration of going through a break-up on 'My Love' with Meron T, reflections on family and love via the lens of his Grandmother's faith on 'Pray for Me' with Ayeisha Raquel, a love letter to Ghana with Bryte on 'Welcome to Ghana', and an homage to South African sounds and their influence on Hagan with Amapiano vocalist Aymos on 'Sise Ntweni', the project drills deep into sentiments around friends, family, faith, love, heartbreak, heritage and more.
Hagan – Textures
Tracklist:
Kora Song (Sonix) ft. Jali Bakary Konteh & Ayeisha Raquel
Pray For Me ft. Ayeisha Raquel
Royal Jama
Welcome To Ghana ft. Bryte
Pull Up ft. Griffit Vigo
Sise Ntweni ft. Aymos
Heart ft. Oladapo, The Kazez & Ruth Williams
My Love ft. Meron T
Textures
Telha ft. Luedji Luna & Sango
Outro (Baffour's Son)
Commencing the album writing process, Hagan compiled a Youtube playlist called "Textures, Feels and Rhythms". The playlist featured clips of Ghanaian Fishermen at sea, improvised Ghanaian drum rhythms played by drummers, African music lecturers and drumming clips from Gambia and Senegal and African ambient sounds – creating a percussive backbone and themes – being proud of your heritage and culture but also exploring dual identities through music and the power of rhythm. Hagan says, "Fishermen go out at sea early in the morning to catch their produce. Early morning is peaceful; there's hardly any noise when they're at sea, no distractions. This makes up part of my character. Fishermen in Ghana chant in sync; however, the sea comes with numerous sailing conditions which symbolise the genre fluidity of my music: Hagan Edits, Right Here, Tropics, Espirito Santo, Forward Focus, Yenkyi, my remixes."


Self-proclaimed percussion obsessive, South-London-raised, British-Ghanaian Producer and DJ Hagan has long been recognised in the underground electronic scene as one of the most exciting fusionists. Hagan's musical journey began at just 6 years old, gifted instruments for his birthday, he also gained an early education in Ghanaian music with the sounds of Ebo Taylor, Gyedu Ambollley, Pat Thomas, Kojo Antwi filling his home. A passion for rhythm was instilled in Hagan from a young age; he gravitated towards percussion, playing the Drums, Congas, and Djembes at church and didn't stop.

Renowned for his beginnings in UK Funky, over the last years, Hagan has truly honed his craft. Exploring the intersection of UK club music and African percussive heritage, Hagan boldly blends Afro-House, Highlife, Hiplife, Afrobeat, UK Funky, Jazz, UK Garage, Funk Carioca, Gqom and more with UK club sounds.
Listen to 'Telha ft. Luedji Luna & Sango' on Radio Hits ConnectFM playlist