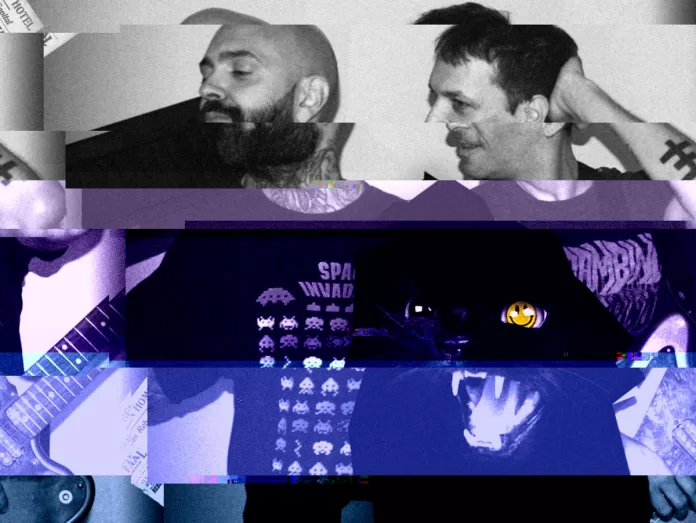 Night Shift is taken from Gatos Negros' new album "Hi Score", out 07 July on Made in Green Records
Gatos Negros, aka Madrid DJs/ producers Christian C. & Iván Smoka, second album 'Hi Score' is a texture and abstraction gambling project now on sale via Vasco Ispirian's Made in Green Records label.
'Hi Score' sees the duo sailing ethereal ambient soundscapes, shady alt rock waves, experimental grooves almost horizontally danceable, acid electro-pop & avant-garde electronica- all in an utterly smart, consistent, and effective vocal fashion.

'HI SCORE' TRACK BY TRACK
The album's fully hybrid and lethargic sonic land starts with the ghostly, almost shoegaze, borderline post-rocker 'The Ballad of Victoria Winters', followed by the troubling ambient 'Up in the Smoke'. Everything melts onto pitch black with 'First Sleep' only to resurface again with the spectral sonic 'Chasing Cassie', which gives way to the obscure narcotic shades of 'Night Shift'. A fuzzy, ethereal melody starring loops follows on 'An Alternative Route', while 'Galactic Gigolo' draws us out of the mist only to entangle us with playful counterpoint arpeggios. Kyonsi's proposal is a complete immersion in a bordering dream-pop warm space to wander through, searching for a light that only sparkles inside us. 'Say Goodbye to the Creatures' digs deep into melancholic post-rock noise and electronica, steady ascending ladder steps towards total emptiness. The gloomy 'Who am I?' foreshadows quite an unhappy, swampy, requiem-esque ending. And the final number, 'The Jukebox Dancing', let us lose ourselves in this rare nostalgia that evokes timeless and distant dances that perhaps did not ever exist.

Gatos Negros – Hi Score
Tracklist:
1. The Ballad of Victoria Winters
2. Up In The Smoke
3. First Sleep
4. Chasing Cassie
5. Night Shift
6. An Alternative Route
7. Galactic Gigolo
8. Say Goodbye To The Creatures
9. Kyonsi
10. Who Am I?
11. The Jukebox Dancing First Sleep
Follow: Artist, Label, Support
https://www.facebook.com/madeingreenrecords/
https://gatosnegros.bandcamp.com/album/hi-score