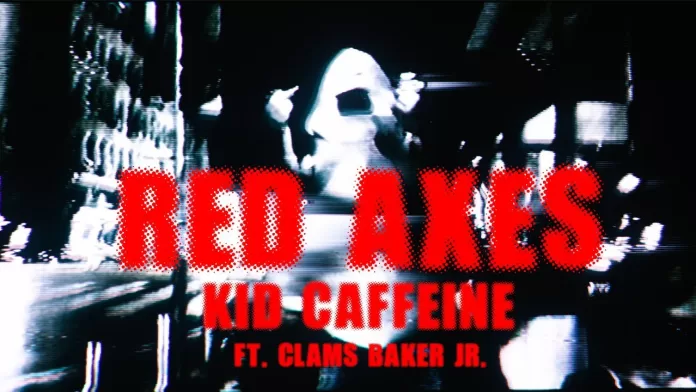 Eclectic electronic duo Red Axes have today announced their new studio album One More City, due for release on October 27 via fabric's new flagship label, fabric Originals. Celebrated for their boundary-pushing approach to electronic music and their willingness to experiment with different sounds, Red Axes have marked the announcement with the release of rollicking lead single and video 'Kid Caffeine' Ft. Clams (lead vocalist of post-punk band, Warmduscher). Speaking on the track's narrative, Red Axes explain: "It's a story that follows the twist in the life of the man who chases his own tail from city to city hoping to find the essence of life which is fame. We had the honour to work with the wonderful creature Clams, who wrote and sang this song."


Comprised of Dori Sadovnik and Niv Arzi, Tel Aviv based Red Axes are informed by post-punk, new wave, and a plethora of club sounds old and new. Throughout their career they have cleaved a singular path with their hefty discography and eclectic taste. As a duo, they are the perfect exemplars of how self-belief and achievement feed into one another. They've played in bands together from their Tel Aviv schooldays, and were always driven by a sense that they were going to be great – but this wasn't arrogance, rather it was a fierce drive to live up to their own expectations. Over many years, that drive led them to dig deep into first rock'n'roll, then club music, releasing dozens of records with some of the most beloved labels around the world. The duo have a deep understanding of the connection between post punk and dance via their beloved Factory records, and in the 2000s the same dots were being joined by the likes of LCD Soundsystem, Optimo, Erol Alkan and the late Andrew Weatherall. Now hooked up with London's legendary fabric, they've come full circle bringing all of that together in the glories of their forthcoming album One More City.

Albums have always been crucial to Red Axes's progress. As their work spread through the club / DJ world and their own DJ commitments sent put them in front of a wide range of different crowds, spending time in the studio every three years or so has been a way of retaining their focus and reconnecting with the fact that, however electronic their music might get, they are still a band at heart. And that's never been more true than now. They felt Israel's club scene has struggled to recover its sense of community post Covid lockdowns, and more widely the rise of "business techno" has prioritised a formulaic aesthetic over the sense of belonging they first felt in clubs.
Which explains One More City. Made and mixed at home in Israel, it's a return to the rootedness of picking up instruments and jamming together. "When you're older," says Dori, "it's harder to regain that certainty you had in your youth. But when we hold a guitar or a bass, that's when we get back to that safe place, that's when we get our confidence again." And it absolutely shows: this is a record crackling with energy, mischief, pleasure and an understanding of how all the parts of the band's history fit together. Goth, new wave, techno, disco, minimalism – and, as Niv says, "this cheesy, glammy side too, we can't escape that!"
It's a record overflowing with talent and distinctive voices, from Tel Aviv electropop / hi NRG maverick Autarkic to British/Turkish rapper / poet Janset, from Clams of London post-punk weirdos Warmduscher to Cole Alexander of Atlanta psyche rockers Black Lips. But for all that it's the tightest, most coherent, most truly Red Axes album yet. It feels like a single band, and as they rehearse and do their first festival shows, it's only going to get more that way.
The tone is set by tracks like today's tense, bouncing-on-the-balls-of-its feet track 'Kid Caffeine', a dubwise acid rockabilly groove with Clams's narration both comical and sinister, and previous single 'HEY', where a Funky Drummer breakbeat gives way to hi-NRG basslines, scratch guitars and out of control cowbell with A.Lonzo somehow fusing Tom Waits and Gibby Haynes in the midst of it all. It's been a long and strange road from those very first jam sessions when Dori and Niv met at school, but thankfully they've managed to hold on to the inspiration and belief they felt back then, combine it with all of the energy and expertise of adulthood, and make the record they always believed they could.

Red Axes: One More City
Tracklist:
1. Kid Caffeine ft. Clams
2. High Speed ft. Fantastic Twins
3. HEY ft. A.Lonzo
4. Goodbye Mary
5. Out Of My Head ft. Autarkic
6. Outside In
7. Marshmallow ft. Adi Scotheque & JANSET
8. Beast ft. Echo
9. Bring It On ft. Cole Alexander
10. All Over Again ft. Justin Strauss
11. In The Eyes
12. Here In The Sky

Red Axes will be touring the album this November across the UK and Europe, opening with a landmark show at London's fabric on November 2nd – full tour dates listed below with tickets available to purchase here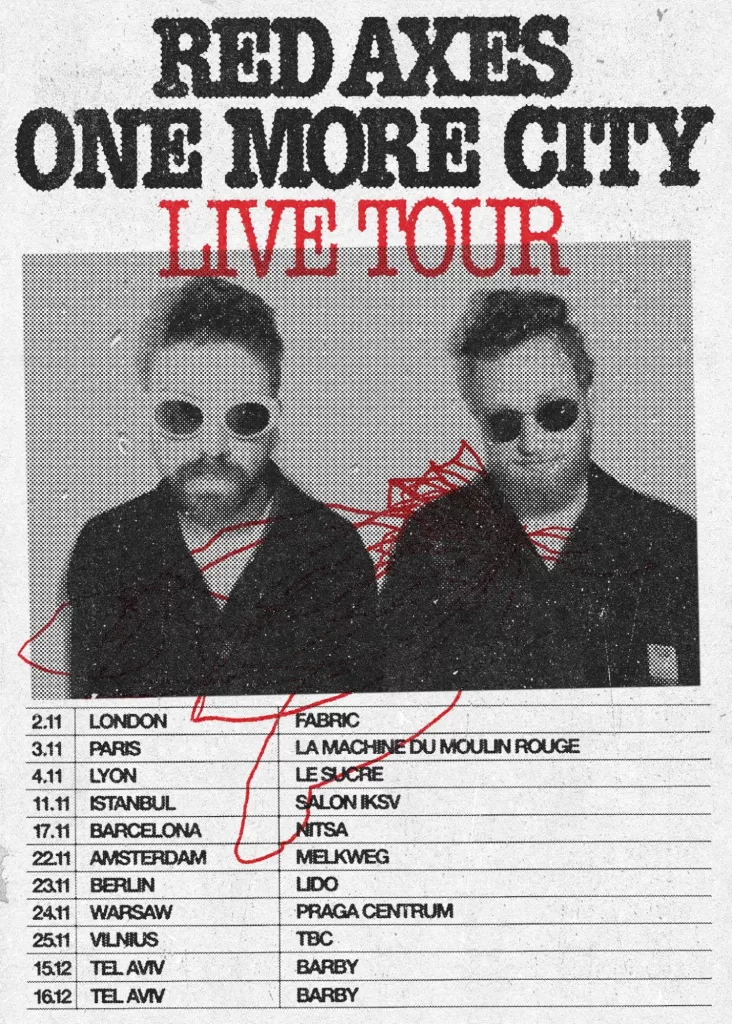 Photo Credit: Ben Palhov
Follow Red Axes
https://www.instagram.com/redaxesofficial