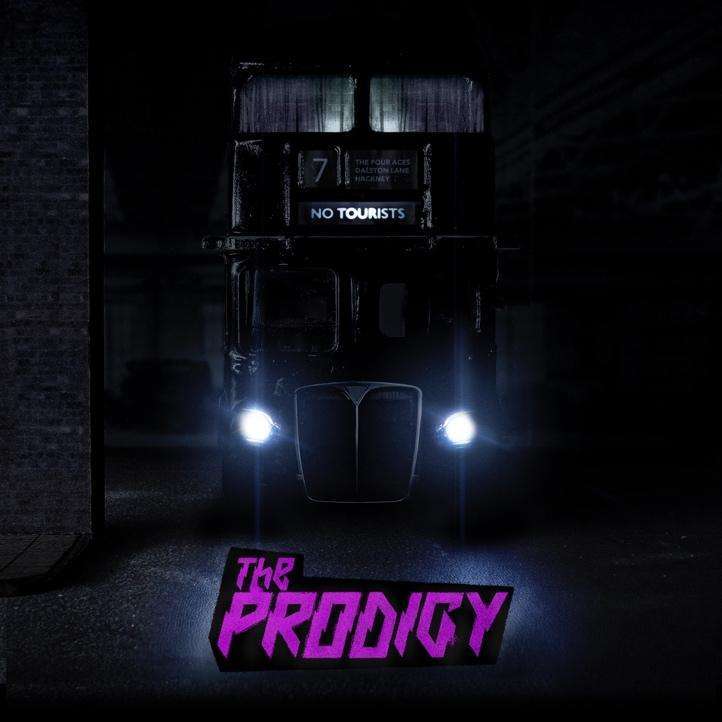 The Prodigy have announced details of new single 'Timebomb Zone', the latest track to be lifted from their seventh straight number 1 album, 'No Tourists'. The band played two rapturously-received sold-out dates at London's Alexandra Palace last week, and continue their extensive European headline tour this month (with support from Slaves). The Prodigy now join just the few other UK acts to have landed seven number 1 albums, a short list including Paul McCartney and Elton John. No other electronic artists have achieved this.
'Timebomb Zone' finds The Prodigy digging deep into the late 80s east London pirate radio sound with a tune that takes us back to the very roots of the band. Fusing tension with euphoric uplift – and a slice of bad acid alchemy – 'Timebomb Zone' is emblematic of The Prodigy doing what they (and only they) do best. In a rare opportunity the band have additionally released the separated musical elements of the single for the first time today, with fans able to download and put their own remix spin on this future Prodigy classic(details via https://TheProdigy.lnk.to/TZRMXPR).


'Timbomb Zone' is a striking highlight from new album 'No Tourists', the band's most urgent, concise and pure statement yet. Here is a group who dominated the illegal rave scene, challenged anti-rave legislation and redefined the whole idea of what a band should be like. They brought UK electronic music to the US heartland, turning metal kids onto raving and ravers into metalheads…effectively reaching global audiences without compromise: see 7 number 1 albums, 30 million record sales, and multiple honours (two Brits, two Kerrang! awards, five MTV awards, two Grammy nominations).
There is, still, nobody quite like The Prodigy, who in 'No Tourists' appear to have tapped into (says Howlett) a wider need for escapism. 'It's about the want and need to be derailed and not to follow that easy set path. In these times we live in people have become lazier and forgotten how to explore. Too many people are allowing themselves to be force fed, with whatever that may be. 'No Tourists' is about reaching out further to find another alternative route where the danger and excitement may be to feel more alive… not accepting that you can just be a tourist. That's what the title is about for us."
'No Tourists' sees The Prodigy return with venom in the way that only they can. They're renegades, outsiders, outlaws – always hiding in plain sight. Though much has changed in the musical and social landscape, what remains a constant – as well as their unbeaten streak of number 1 albums – is The Prodigy's resolute focus to always do things their own unique way. The remarkable success of 'No Tourists' suggests that in 2018, the urgency and irrepressible spirit of The Prodigy has also never been more needed.
'No Tourists' is available digitally, on CD, cassette, and heavyweight double vinyl. HMV and indies also stock a limited edition gatefold clear violet double vinyl. Exclusive bundles and a ltd edition gatefold clear double vinyl are available via the artist store.
Buy 'No Tourists' here: https://theprodigy.lnk.to/NoTouristsPR
'No Tourists'
'Need Some1' Listen
'Light Up The Sky' Listen
'We Live Forever' Listen
'No Tourists'
'Fight Fire With Fire' (ft. Ho99o9) Listen
'Timebomb Zone'
'Champions Of London'
'Boom Boom Tap'
'Resonate'
'Give Me A Signal' (ft. Barns Courtney)

EUROPEAN TOUR DATES (w/ support from Slaves)
27th November: Berlin Max- Schmeling Halle, Germany
28th November: Munich Zenith, Germany
30th November: Livorno Modigliani Forum, Italy
1st December: Rimini RDS Stadium, Italy
3rd December: Zurich Hallenstadion, Switzerland
4th December: Frankfurt Festhalle, Germany
5th December: Düsseldorf Mitsubishi Electric Hall, Germany
7th December: Brussels Forest National, Belgium
8th December: Luxembourg Rockhal Main Hall
9th December: Amsterdam Ziggo Dome, Netherlands
https://web.facebook.com/theprodigyofficial